Military families proudly hail news
A Mother Remembers Her Son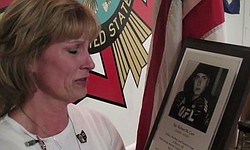 Video
At the time of Osama bin Laden's death Chris Wortman remembers her son, US Army Sgt. Robert Carr, who was killed in Iraq.
WAR DEATHS
Iraq and
Afghanistan
Nearly 500 military personnel from Ohio and Pennsylvania have died in Operation Iraqi Freedom and Operation Enduring Freedom. Total fatalities are 5,885 — 4,424 in OIF and 1,461 in OEF. The list is updated twice monthly from military releases, news service reports and local newspaper stories. Here is the latest update:
Area deaths
Grove City, Pa.: Pfc. James R. Dillon Jr., Marines, March 13, 2003.
Niles: Lt. Col. Dominic Rocco Baragona, Army, May 19, 2003.
Enon Valley, Pa.: Sgt. Ernest G. Bucklew, Army, Nov. 2, 2003.
Youngstown: Staff Sgt. Elvis Bourdon, Army, Sept. 6, 2004.
New Castle, Pa.: Spc. Clifford L. Moxley Jr., Army National Guard, Sept. 25, 2004.
Greenville, Pa.: Sgt. Michael A. Marzano, Marines, May 7, 2005.
Sharon, Pa.: Pfc. Douglas E. Kashmer, Army, June 8, 2005.
Austintown: Sgt. Larry R. Kuhns, Army, June 13, 2005.
Alliance: Lance Cpl. Daniel M. McVicker, Marines, Oct. 6, 2005.
Youngstown: Sgt. 1st Class Daniel J. Pratt, Army National Guard, Nov. 3, 2005.
Mercer, Pa.: Lt. Col. Michael E. McLaughlin, Army National Guard, Jan. 5, 2006.
New Castle, Pa.: Cpl. Albert Pasquale Gettings, Marines, Jan. 5, 2006.
Jamestown, Pa.: Staff Sgt. David Michael Veverka, Army National Guard, May 6, 2006.
Williamsfield: Sgt. David W. Gordon, Army, Sept. 8, 2006.
Greenville. Pa.: Sgt. 1st Class Daniel A. Brozovich, Army, Oct. 18, 2006.
East Liverpool: Pfc. Kenneth Tyler Butler, Army, Feb. 1, 2007.
Fowler/Champion: Sgt. Robert M. Carr, Army, March 13, 2007.
Warren: Sgt. Marco L. Miller, Army, Dec. 5, 2007.
Sharpsville, Pa.: Sgt. David W. Wallace III, Marines, Jan. 27, 2009.
East Liverpool: Lance Cpl. Randy M. Heck, Marines, March 28, 2010.
Total Ohio deaths: 235
Total Pennsylvania deaths: 258
Source: Washington Post
Christine Wortman said her son, Army Sgt. Robert "Robbie" Michael Carr, would have been proud that the military killed Osama bin Laden.
Pride in the military that finally caught up with bin Laden was the dominant feeling Monday among area veterans and families of soldiers killed in the Iraq war.
Bin Laden is considered the architect of the Sept. 11, 2001, terrorist attacks on the U.S.
Carr was killed in Iraq on March 13, 2007, when an improvised explosive device detonated under the armored vehicle he was driving in Baghdad. He was 22.
"After 9/11, nothing was stopping Robbie from going into the military. I just wish he was here to see it. I'm sure he is looking down with his band of brothers celebrating. I'm sure he would have called and said, 'Mom, we finally got him'."
Carr, a 2002 Champion graduate, was the son and stepson of Christine and Bill Wortman Sr. of Champion and the son and stepson of Jeffrey and Cathy Carr of Fowler. Carr was on his second tour of duty in Iraq when he was killed.
Carr's father, Jeffrey, was not available to comment Monday but said previously: "He was a son anyone would have been proud of."
Rene Miller Daniels believes her son, Army Sgt. Marco L. Miller, also would be pleased that the military got bin Laden.
Miller, a Warren native, died Dec. 5, 2007, two days after he was injured by an IED. He was 36. He had served in the Gulf War, got out of the military, and then went back in after the Sept. 11 attacks. He was in the special forces, his mother said.
"I'm glad the military got bin Laden. I'm glad we got that part of things out of the way," Daniels said.
Veterans also seem pleased that bin Laden is dead.
Wortman was at Newton Falls VFW Post 3332, where she works, when the news came that bin Laden had been killed.
She said the vets gave her hugs. "When I'm here, I'm a different person. They are family," she said.
"There were Korean War and Vietnam War veterans there. You could see the pride in them too," she said.
"Thanks for calling. It's nice to know they aren't forgotten," Wortman said.
John P. Brown of Youngstown, former national commander of AMVETS, said he hopes things will settle down a little, now that the financier and mastermind behind the Sept. 11 attacks is dead. He hopes it brings a quicker end to the war and leads to bringing the military home sooner.
Brown said he doesn't know if now is the time for celebration.
"Maybe we should save that until the military all come home and have a huge celebration like we did after World War II. If we are going to continue to send them out to police the world, when they return, let's treat them with honor and dignity," he said.
Richard Koker, a member of Korean War Veterans' Association Chapter 137, urged people to fly the American flag to "honor our military, especially the ones who got bin Laden, the person responsible for killing thousands of our people. I think it would be something honorable for our military."