U.S. reacts to Bin Laden's death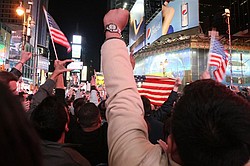 Gallery
People in New York's Times Square react to the news of Osama Bin Laden's death early Monday morning May 2, 2011. President Barack Obama announced Sunday night, May 1, 2011, that Osama bin Laden was killed in an operation led by the United States.(AP Photo/Tina Fineberg)
AP

Photo
FILE - In this Sept. 11, 2001 file photo, the twin towers of the World Trade Center burn behind the Empire State Building in New York. Osama bin Laden, the glowering mastermind behind the Sept. 11, 2001, terror attacks that killed thousands of Americans, was slain in his luxury hideout in Pakistan early Monday, May 2, 2011 in a firefight with U.S. forces, ending a manhunt that spanned a frustrating decade.
America celebrates after Bin Laden's Demise
Associated Press
WASHINGTON
After nearly a decade of anger and fear, America rejoiced Monday at the death of Osama bin Laden, the terror mastermind behind the horrific 9/11 attacks.
Navy SEALs who killed the world's most-wanted terrorist seized a trove of al-Qaida documents to pore over, and President Barack Obama laid plans to visit New York's ground zero.
Bin Laden, killed in an intense firefight in a daring raid at his fortified hideout in Pakistan, was hunted down based on information first gleaned years ago from detainees at secret CIA prison sites in Eastern Europe, officials disclosed.
His body was quickly taken away for burial at sea, but not before a DNA match was done to prove his identity. A U.S. official said there also were photos showing bin Laden with the fatal wound above his left eye, a gunshot that tore away part of his skull. The photos were not immediately released.
"The world is safer. It is a better place because of the death of Osama bin Laden," Obama declared, hours after U.S. forces killed the al-Qaida leader in the middle-of-the-night raid on his compound in Abbottabad. Obama was expected to visit New York, the site of al-Qaida's attack on the World Trade Center, and meet with the families of those killed, an administration official said.
The CIA already was poring over confiscated hard drives, DVDs and other documents looking for inside information on al-Qaida, including clues that might lead to his presumed successor, Ayman al-Zawahri.
Bin Laden's death after a decade on the run unloosed a national wave of euphoria mixed with remembrance for the thousands who died in the Sept. 11, 2001, terror attacks. Crowds celebrated throughout the night outside the White House and at ground zero in Lower Manhattan where the Twin Towers once stood. Thousands of students at Penn State University and in other college towns spilled into the streets and set off firecrackers to mark the moment.
The SEALs dropped down ropes from helicopters at the compound, killed bin Laden aides and made their way to the main building where U.S. officials say the terror leader was slain in a gunfight. Within 40 minutes the Americans were gone, taking bin Laden's body to the USS Carl Vinson where he was slipped into the sea.
"For my family and I, it's good, it's desirable, it's right," said Mike Low of Batesville, Ark., whose daughter Sara was a flight attendant aboard the hijacked plane that was flown into the World Trade Center North Tower. "It certainly brings an ending to a major quest for all of us."
Halfway around the world, a prominent al- Qaida commentator vowed revenge for bin Laden's death. "Woe to his enemies. By God, we will avenge the killing of the Sheik of Islam," he wrote under his online name Assad al-Jihad2. "Those who wish that jihad has ended or weakened, I tell them: Let us wait a little bit."
U.S. officials conceded the risk of renewed attack. The terrorists "almost certainly will attempt to avenge" bin Laden's death, CIA Director Leon Panetta wrote in a memo that congratulated the agency for its role in the operation. "Bin Laden is dead. Al-Qaida is not."
Within a few hours, the Department of Homeland Security warned that bin Laden's death was likely to provide motivation for attacks from "homegrown violent extremists" seeking revenge."
FBI spokesman Paul Bresson said, "While there are no specific, bin Laden-related threats at this time, every logical and prudent step is being taken to mitigate any developing threats."