Bus Driver Appreciation Day recognized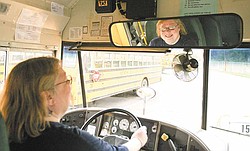 The Vindicator

Photo
Pam Spears, a bus driver for Austintown schools, readies her bus after having a thank-you lunch for School Bus Drivers Appreciation Day. Spears has been a full-time driver for eight years and said she enjoys spending time with her coworkers before their early morning shifts.
By Kristine Gill
AUSTINTOWN
Monday marked Bus Driver Appreciation Day in Ohio to recognize those who safely transport thousands of students daily to and from school.
Austintown schools celebrated with a breakfast and lunch for its 44 full-time drivers, 10 substitute drivers, six bus aides, four mechanics and three transfer aides.
"Thanks for all you do for us," said Dan Bokesch, school district director of curriculum, who stopped by to chat with the staff. Superintendent Vince Colaluca stopped by in the afternoon.
"Our bus drivers and mechanics and [aides], they all work so hard together to make sure these children are safe and they should be recognized even if it's just a friendly wave," said Colleen Murphy, transportation supervisor.
A handful of staff occupied the break room at the transportation department when the lunch began at 11:30. They could eat pizza, broccoli salad, potato salad, chips and other treats until 2 p.m. to accommodate those who work other day jobs.
Jerry Medley has been a substitute driver since last fall. He's on call each morning in case a driver is sick and usually hears from Murphy around 5:30 a.m.
He said driving a new route each morning can be tricky, but students usually help.
Like all drivers, he trained for his Commercial Drivers License and said learning all the workings of the bus was challenging.
"You've gotta know it all," he said, adding that the hardest part is driving in bad weather or in the dark.
"The kids help out," he said, but also noted that elementary students can be loud.
"And they don't use their inside voices," Medley said with a laugh. "They're always running up and telling on each other."
"They're talkative," said Pam Spears, a fellow driver.
Spears has been a full-time driver for eight years and worked as a sub for three years prior to that. She said all students in the district have assigned seats while riding and elementary school students must be dropped off with a parent or other adult in sight. Spears waits for students to get inside their houses before driving to her next stop.
In bad weather and in general, Spears said her students behave.
"You say the roads are slick and tell them to sit down. You just go slow and everybody understands it's safety first," she said.
Austintown schools has its own gas and diesel fuel at the transportation department for buses to fill up between routes. Murphy said there is a 10,000 gallon diesel fuel tank and a 5,000 gallon gas tank.
In January, the department earned a grant from the Ohio Environmental Protection Agency for $143,000 to retrofit 31 of its 50 buses and improve exhaust systems on older buses.
The district earned an additional $90,000 in federal EPA money to add new fuel-fired heaters to the buses. At least four of those have been installed.