Bin Laden dies, but threat lives on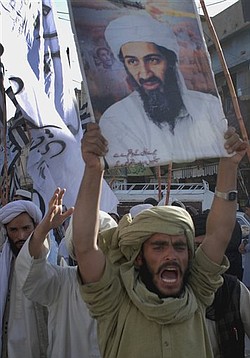 ASSOCIATED PRESS

Photo
Supporters of Pakistani religious party Jamiat Ulema-e-Islam rally to condemn the killing of Osama bin Laden in Quetta, Pakistan on Monday, May 2, 2011. Osama bin Laden, the mastermind behind the Sept. 11, 2001, terror attacks that killed thousands of people, was slain in his hideout in Pakistan early Monday in a firefight with U.S. forces, ending a manhunt that spanned a frustrating decade.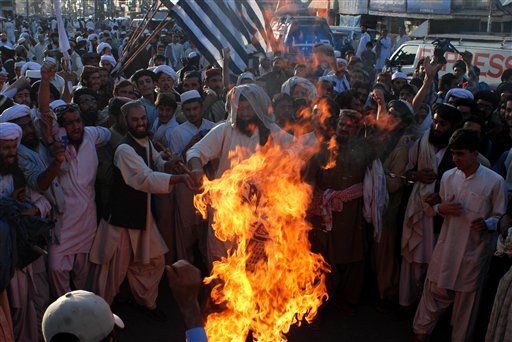 Photo
AP
Angry supporters of Pakistani religious party Jamiat Ulema-e-Islam burn representation of the United States during a rally to condemn the killing of Osama bin Laden in Quetta, Pakistan on Monday, May 2, 2011. al-Qaida chief Osama bin Laden was slain in his hideout in Pakistan early Monday in a firefight with U.S. forces, ending a manhunt that spanned a decade.
Associated Press
WASHINGTON
Osama bin Laden's death may decapitate al-Qaida temporarily, but the threat of terror attacks remains, and it could spike in coming days from individuals or small extremist groups inspired to take revenge for the killing, terror experts said Monday.
Would-be successors to the terror leader pose a threat as they jostle for power and attention. And other jihadists inspired by the extremist messages may decide to act on their own — a threat that law- enforcement officials say is much harder to detect and prevent.
"People who are angry at us will be more so," said Matthew Levitt, a counterterrorism and intelligence expert at the Washington Institute for Near East Studies. "They had attacks in the works last week, last month, today — and those things can still happen."
Though the terror threat to the U.S. erupting from the Sept. 11, 2001, attacks has been rooted in al-Qaida, it has metastasized in recent years to spawn a broad range of affiliated groups operating out of Yemen, Somalia, Afghanistan and the Pakistan border region.
And with the Internet as their tool, terror leaders have worked to inspire individuals around the globe to take up the fight and launch their own attacks on Main Street USA. Bin Laden's death, at the hands of U.S. special- operations forces who stormed his private compound in Pakistan on Monday, may ignite simmering passions, and no one knows how or where the danger could surface next.
"The biggest threat in the coming days is the recently radicalized people, or people that have been thinking about participating and are part of this demographic of jihadists that do not bear formal membership to any group, that have not necessarily traveled to a training camp, but have been encouraged by groups like al-Qaida, al-Qaida in the Arabian Peninsula and others to conduct their own missions themselves," said Ben Venzke, director of IntelCenter, a Virginia-based company that studies terrorist groups and monitors their Internet messages.
Law-enforcement officials said Monday that they are seeing no specific, bin Laden-related threats at this point, but they issued a bulletin warning that homegrown extremists could use this as an excuse to launch an attack.
Offsetting that, experts said, are the reverberations of the successful U.S. operation.
Extremists in the midst of attack plans, or looking to make a revenge strike, "are looking over their shoulders," said Levitt.
"They're assuming everything is penetrated, they're afraid of talking on the phone, they're afraid of using their couriers," he added. "It really shakes the tree in a very violent way."
In the near term, Venzke and other experts say the attacks likely would be small and planned quickly by would-be jihadists. But history shows such ad hoc, individual attempts can be deadly as easily as they can be duds.
The Homeland Security Department and FBI confirmed the retaliatory threat Sunday, issuing a bulletin to law enforcement around the country. The warning said bin Laden's death could inspire extremists to speed up their plans for attacks, and the threats could come from unidentified al-Qaida operatives in the country who could move forward with their own plots.
For al-Qaida, the future is at best uncertain.
Loyalists in Afghanistan, under increasing pressure from the U.S. and coalition forces, may decide now is the time to sever ties with the terror group, said Richard Barrett, the head of a U.N. group that monitors the threat posed by al-Qaida and the Taliban.
Bin Laden's heir apparent, Ayman al-Zawahri, is deeply unpopular, and any struggle to replace the terror leader could divide and further weaken the group.
Al-Qaida and its core leaders have been under great pressure in Pakistan in recent years from the escalating barrage of U.S. drone attacks. And the Pakistani military has pushed into many of the group's strongholds along the border, making communications, fundraising and attack planning far more difficult.
But officials also warn that al-Qaida has proved to be resilient and patient — a wounded tiger that still has some life in it, White House counterterror chief John Brennan said.