A sign of patriotism springs up on South Side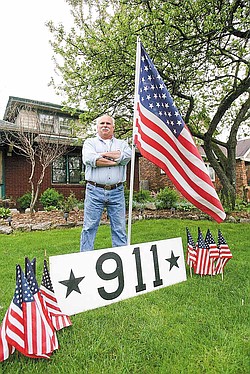 The Vindicator

Photo
Billy Frease set up a 9/11 memorial Monday in front of his South Side home, the day after it was announced Osama bin Laden had been killed by U.S. troops. Frease made the sign to commemorate the five-year anniversary of the attacks but decided to save it for the day bin Laden was captured or killed.
YOUNGSTOWN
Billy Frease says he has a true sign of the times firmly planted in the front yard of his South Side home.
The white sign is relatively small with only three black numbers across the front — 911.
It is flanked on either side by several small American flags and has a much larger American flag flying above the sign.
Frease says he walked outside his Southern Boulevard home before the sun came up Monday morning and placed the sign in his yard. He said he immediately felt a heavy weight removed from his shoulders after the sign was fitted into position.
Frease actually made the sign several years ago on the five-year anniversary of the Sept. 11, 2001, attack on the World Trade Center. He planted the sign in his yard at that time, but then quickly removed it, choosing to save it for a more special occasion.
"Five years ago, I just wanted to do something for the 9/11 anniversary so I made this sign and put it out. We got a lot of nice compliments on it, but I made a deal with my wife not to put it back out until Osama bin Laden was captured or killed," said Frease.
The sign had been stored in a backyard shed with other signs Frease collects.
He said a national news story that interrupted the "Celebrity Apprentice" television show he was watching Sunday let him know it was time to retrieve the sign from the shed and place it back in the front yard.
"Without seeming too dramatic and certainly not embellishing, as soon as I put the sign in front of the flagpole, the flag immediately unfurled and started waving seemingly without any wind," said Frease. "It is a good day for America. I just feel good about catching him, and I don't think any of us will forget how we felt after that day."