Holocaust survivor tells her story to local middle-school students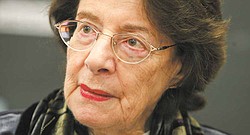 The Vindicator

Photo
Holocaust survivor Agi Geva speaks to students about her time in Auschwitz concentration camp. Geva visited Canfield Village Middle School students for an assembly Monday.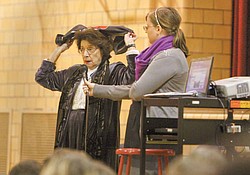 The Vindicator

Photo
Holocaust survivor Agi Geva, left, shows students how she and her younger sister wore scarves to appear older when they arrived at Auschwitz. Their mother told them older girls were able to work and were spared when the guards divided Jews into separate groups. Next to Geva is Amy Grunenwald, also from the United States Holocaust Memorial Museum.
By Kristine Gill
CANFIELD
At 14, Canfield Village Middle School student Lexi Zoldan is the same age Holocaust survivor Agi Geva was when the Nazis took her to Auschwitz.
Lexi, who also is Jewish and had relatives in the camps, met with Geva after she spoke to eighth-graders at an assembly Monday.
"My ancestors were from Hungary so that was really good to learn what happened," Lexi said.
The two were able to speak Hebrew to each other as Lexi attends Hebrew schools on Saturdays.
Geva, now 80, her younger sister, Zsuzsanna, and their parents, Rozsa and Zoltan Laszlo, were living in Miskolcz, Hungary, when Nazis began their occupation in 1944. Zoltan died the day the occupation began after a long illness.
First, Geva was forced to leave her home. She lived in a small apartment with five or six other families in the ghetto.
"Every day there was a new law," Geva said. First Jews were told to always wear a gold star, then strict curfews were imposed. But the situation was only temporary.
"Concentration camp," Geva said. "Those were two words we didn't know."
Geva, her mother and sister were taken by train to Auschwitz in Poland where they waited in line as Nazi guards sent prisoners left or right, separating families in the process.
"My mother went to the beginning of the line to see what was happening," Geva said. "She walked back and told us what to do and what not to do. We were not supposed to be family. We were just supposed to be strangers."
Rozsa had noticed that children and older women were being sent in one direction while those who seemed fit and able to work were sent in another. She told Geva and her sister to wear scarves around their heads in a certain way to appear older. Rozsa wore hers to seem younger.
"We stayed together," Geva said. "They sent us all to the right."
Then they were stripped, shaved from head to toe and sent to the showers where they were disinfected. "We felt really not like humans to stand there naked with no hair, looking at each other," Geva said.
They were given one dress, one pair of shoes, no underwear, a bowl and blanket and they were sent to work.
"It was terrible," Geva said.
Later, the three were sent to another camp called Plaschov where they were again fortunate to stay together. Geva and her sister did hard work at the camp, pushing large rocks up a hill one day and back down the next.
"We were sickly and sunburned and scared," Geva said. "Mom told us it couldn't get any worse. She, all the time, kept our spirits up."
One day they learned they were being taken somewhere else. The women found themselves again at Auschwitz and this time, Geva was separated from her sister and mother.
Geva, on whom the hard labor had taken a great toll, pleaded with the guard to be sent with her mother and sister — convincing him, in German, that she was able to work.
"I was taught German and English in my childhood," Geva said. "This time the German language really saved me. He said 'OK, go wherever you want to go.'"
Geva was reunited with her family and the three were sent to work at an airplane factory for a few months.
Then the prisoners were sent on a death march of 400 kilometers, about 250 miles. They walked until they were too tired to stand. Those who stopped were shot. They were headed for trains that would take them to another camp or factory, Geva didn't know, but the trains weren't there when the group arrived. Instead, they were marched into the woods, where the guards left them.
"We would understand we were actually free," Geva said.
Geva and her family had been in camps for about a year before they and the other 200 prisoners were found by American troops.
"They didn't believe how ugly and dirty and hungry we were," Geva said. "But they were very nice to us."
The troops offered to buy things for the group and many asked for cakes or clothing. Geva asked for lipstick.
"I never saw a mirror for a year and the person was so ugly and so pale looking back," she said.
Geva moved with her sister to Israel after they returned home. Their mother and stepfather later joined them. Rozsa died when she was 98 and Geva credits her with her own survival.
"There were situations when we doubted she was right, but we did it anyway," Geva said.
"Students should know, when there is danger, to listen to teachers and parents and not to question the order. I can tell you these things saved me."
Geva is now one of 98 holocaust survivors who works at the US Holocaust Memorial Museum in Washington D.C.
Eighth-grader Abbey Karlock said the speech was informative.
"It was really moving the way she told it," she said.
"It's really said what she had to suffer," eighth-grader Emily Burton said.