Greatest Golfer | Henry Stambaugh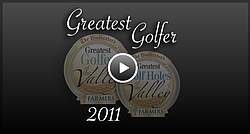 Video
Greatest Golfer | Henry Stambaugh
Jonah talks about Stambaugh

Video
Jonah talks about Stambaugh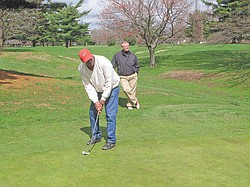 The Vindicator

Photo
James Overton of Youngstown, under the watchful eye of PGA pro Dave Boos, prepares to take a shot on the No. 1 Par 4 Hole at the Henry Stambaugh Municipal Golf Course, where the 2011 Greatest Golf Holes of the Valley will tee off today. The event, sponsored by The Vindicator and Farmers National Bank in partnership with eight area golf courses, again showcases the best holes on area courses, but this time as determined by Valley golfers.
Valley golf holes, tourney events get underway today
Staff report
The second year of The Greatest officially launches today with the first golf hole in the series and the opening of tournament registration.
Farmers National Bank and The Vindicator launched The Greatest last year as a salute to area golf. It's run in partnership with eight area golf courses.
The Greatest Golf Holes of the Valley showcases the valley's best golf holes. Last year's inaugural version of the golf holes was selected by The Vindicator's Greatest panel. With those first 18 holes off in a special place, we're moving onto a new round of 18 holes as selected by readers.
Today's first hole is the venerable No. 1 at Henry Stambaugh Municipal Golf Course on Youngstown's northside. The 9-hole course features a Par 5 more than 600 yards and decades of local golf lore.
"The course was a fitting start for Year 2," Vindicator Editor Todd Franko said. "This whole program is about golf's legacy. And in the valley, the name Stambaugh is synonymous with legacy."
For the past month, golfers have been going to Vindy.com to vote from a collection of 70-plus holes. We're going to continue the voting through May while debuting the first hole today.
Go to Vindy.com to help complete the 18 holes that will appear weekly through August.
Also today, we officially open registration to the 2011 Greatest Golfer of the Valley tournament.
The tournament is open to men and women of all ages and skill levels in the five-county Valley area. Players are split into divisions based on handicap, gender or age (seniors and super seniors).
The Greatest added two courses this year — Youngstown Country Club and Reserve Run Golf Course. They join Mill Creek Golf Course and Trumbull Country Club as hosts of qualifiers Aug. 26-27.
The finals will be Aug. 28 at The Lake Club. Entry is $100.
Also new to Greatest this year is a juniors division that will be played in July at Tamer Win Golf Club, Tam O'Shanter Golf Course and Diamondback Golf Course. Top juniors from these events will compete July 31 at Trumbull Country Club for the Greatest Junior Championship.