28 workers allege violations by GM, UAW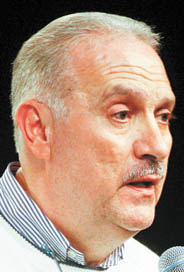 Photo
By Karl Henkel
LORDSTOWN
General Motors Co., United Auto Workers and UAW Local 1112 all were served civil summonses Monday by the U.S. District Court in Cleveland.
The case, Mark Dragomier et al. v. International Union, United Automobile, Aerospace & Agricultural Implement Workers of America, Local 1112, stems from 28 GM Lordstown employees' alleging the company and unions violated the collective-bargaining agreement. Their suit seeks more than $3 million in back pay.
The plaintiffs said that the union refused to file grievances and that the public review board of the international Union upheld that decision.
The plaintiffs in this case originally could have gone directly to the international union, said Local 1112 President Jim Graham, who explained that by going to the board, the plaintiffs could skip steps in the grievance process.
Graham said that procedure has happened before, and the union normally would follow the grievance process if it was a "winnable" or local issue.
Graham said there no longer are temporary employees at the Lordstown facility to his knowledge and did not wish to discuss the process in which employees go from a temporary to full-time status, a major sticking point of the lawsuit.
The suit says GM first violated the collective- bargaining agreement when it extended the workers' temporary status, which began in 2006, without proper approval.
The 28 employees were terminated in April 2007, then rehired seven months later as permanent employees with seniority, the suit says.
But in June 2008, they were forced to re-categorize as temporary employees or be terminated immediately, all while taking pay cuts of more than 40 percent.
Atty. Ken Myers, representing the workers, said the plaintiffs' pay would increase when GM hired a third shift, which it did last year.
Just days later, the union and GM entered an agreement called Special Employee Hiring Opportunities. Former Delphi employees could be hired, and according to the suit, this violated the contract because they made more money than the plaintiffs.
The union did not investigate, the plaintiffs did not receive pay raises when GM hired a third shift, and the union refused to file grievances, the suit says.
The 28 workers are seeking pack pay and permanent positions with proper pay and benefits.
Tom Mock, spokesman for the Lordstown facility, declined to comment Monday.
The three entities have 21 days to respond to the summonses.