Libyans burn UK, Italy missions after strike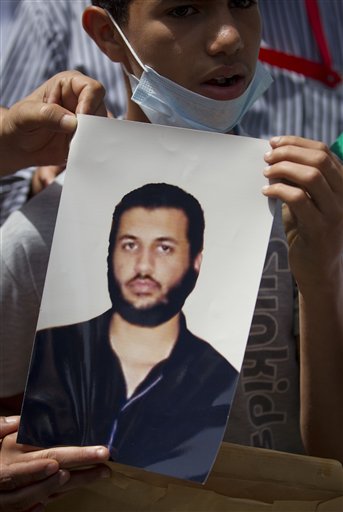 Photo
AP
In this photo made on a government organized tour, Libyans hold a photo of Moammar Gadhafi's son Seif al-Arab given by a Libyan official, in Tripoli, Libya, Sunday, May 1, 2011. Libyan leader Moammar Gadhafi escaped a NATO missile strike in Tripoli that killed one of his sons and three young grandchildren, a government spokesman said early Sunday.
Associated Press
TRIPOLI, Libya
Angry mobs attacked Western embassies and U.N. offices in Tripoli on Sunday after NATO bombed Moammar Gadhafi's family compound in an attack officials said killed the leader's second-youngest son and three grandchildren. Russia accused the Western alliance of exceeding its U.N. mandate of protecting Libyan civilians with the strike.
The vandalized embassies were empty and nobody was reported injured, but the attacks heightened tensions between the Libyan regime and Western powers, prompting the United Nations to pull its international staff out of the capital.
In Washington, the United States on Sunday condemned attacks on embassies in Libya's capital. "We have seen reports indicating that British, Italian and U.S. diplomatic facilities in Tripoli have been attacked," U.S. State Department spokesman Mark Toner said. "If true, we condemn these attacks in the strongest possible terms."
The bombing did not slow the attacks of Gadhafi's forces on rebel strongholds in the western part of Libya that has remained largely under the control of the regime.
The rebel port of Misrata, which has been besieged by Gadhafi's troops for two months, came under heavy shelling Sunday and at least 12 people were killed, a medic said.
Gadhafi has repeatedly called for a cease-fire, most recently on Saturday, but has not halted his assault on Misrata, a city of 300,000 where hundreds have been killed since the rebellion against Libya's ruler erupted in mid-February.
NATO warplanes have shifted their focus in the past two weeks from support for rebels on the front lines to attacking the regime's communications centers. Saturday's strike reduced most of the Gadhafi family compound to rubble.
Officials said it killed 29-year-old Seif al-Arab Gadhafi, who had survived a 1986 U.S. airstrike on his father's Bab al-Aziziya residential compound.
The 1986 strike, which killed Gadhafi's adopted daughter, was retaliation for the bombing attack on a German disco in which two U.S. servicemen were killed. The U.S. at the time blamed Libya.
After news of the airstrike spread in Tripoli, an angry mob burned down the British embassy buildings, including the ambassador's residence, the British Foreign Office said. The Italian embassy in Tripoli was also burned, the Italian Foreign Ministry said, accusing the Gadhafi regime of failing to take measures to protect foreign missions.
More like this from vindy.com