Giuriceo training on West Coast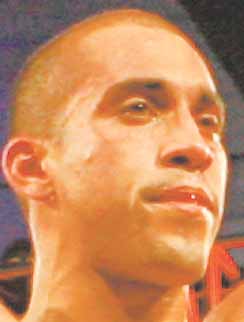 Photo
Boxer Jake Giuriceo of Struthers
Main event: Jake Giuriceo vs. Rod Salka.
When: May 14 at St. Lucy Banquet Center, Campbell.
First bell: 7 p.m.
Tickets: $75 for Golden Ringside seats, $50 for ringside and if purchased in advance, $20 for general admission; $25 at the door. A table of eight ($400) includes food and drinks.
More information: Call Mike Cefalde (330-787-4228) or Tom Kordell (330-717-4201).
Ticket outlets: First Choice Rentals, Bogey's Bar & Grille, Check-N-Go, Jensen Lock & Alarm, Patsy's Bar, Patrone Brothers Landscaping, Crickets, Dona Vito's, Campbell Party Shop and the Wine Cellar.
Staff report
By Greg Gulas
YOUNGSTOWN
While boxer Jake Giuriceo continues to use California as a backdrop to prepare for his upcoming light welterweight bout with Rod Salka, his opponent also is taking in the sights of California while he preps as well.
California, Pa., that is.
The two fighters seem to be polar opposites as they ready themselves for their upcoming May 14 clash at St. Lucy's Banquet Center in Campbell.
They aren't polar opposites when it comes time to dishing out accolades about each other.
"Rod is a talented fighter; a really tough competitor so I am going to have my hands full," Giuriceo said. "I haven't seen any tapes of him, but I've heard from those in the know that he likes to use the entire ring.
"What I need to do is close the gap, make it an inside battle and fight my fight. I'll just have to outwork him."
Giuriceo (10-0, 3 KO's) worked with his trainer, Keith Burnside, before leaving for the West Coast.
He's been working mostly on his defense and footwork with Frankie Duarte, Ray "Boom Boom" Mancini's close friend who helped to prep him for his last fight against Angel Hernandez at Youngstown's Byzantine Center on Feb. 19.
"I feel like I've had a good camp so far. We've been sparring in Los Angeles at the Wild Card Boxing Club and at Buddy McGirt's Gym in Burbank," Giuriceo said. "I'll return to the area on [Saturday] and for the week leading up to the fight, will work with both Keith and Frankie on my final preparation.
"It's pretty important to have both sets of eyes as we fine tune everything," Giuriceo said.
As for Salka (12-1), he's still steaming from the only loss of his professional career against Guillermo Sanchez his last time in the ring. It was an eight-round unanimous decision on Nov. 24 in Erie, Pa.
"It was a messed up situation, but I refuse to make any excuses," Salka said. "I won the first two rounds but in the fourth, was head butted and received a cut that needed 14 stitches to close.
"I had a concussion; the vision in my left eye was blurry the remainder of the fight, and quite frankly, the fight should have been stopped.
"[Guillermo] Sanchez was a lefty who really didn't want to fight, throwing barely 30 punches per round," Salka said. "I lost the decision but had the commissioner been in attendance, I truly believe that the fight probably would have been stopped."
Salka's trainer, Andy "Buzz" Garnic Sr. who has been in the business more than half a century, is good friends with Don Turner, a sparring partner of former middleweight champion of the world Sugar Ray Robinson and a trainer who has produced 19 world champions including heavyweights Evander Holyfield, Larry Holmes and Michael Grant.
Salka has been in camp the past eight weeks preparing for Giuriceo, but did travel to North Carolina for a week in order to get some added work under Turner.
"I've worked with Don before, and he actually worked my corner when I fought Traian Dimitrov in Cypress, just about a year ago at this time," Salka said.