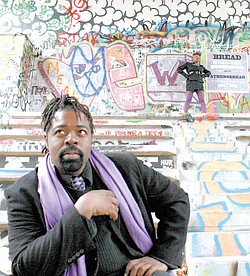 Special to the Vindicator

Photo
Derrick "D" Jones, a filmmaker from Youngstown, says the film "631," about his childhood home on Ridge Avenue, is special to him because it is so personal, yet universal.
631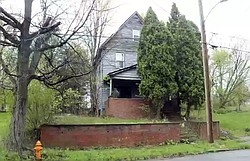 Video
A Youngstown film maker documents his family's home place.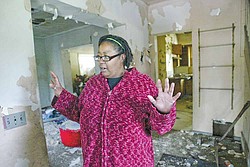 The Vindicator

Photo
Joyce Jones of Youngstown, mother of filmmaker Derrick "D" Jones, walks through the home at 631 Ridge Ave., where she and her children once lived. Her son filmed a nine-minute documentary about the home, "631," that Derrick has shown in Youngstown several times in the past few years.
Youngstown-born filmmaker gives the 411 on '631,' a close-up view of boyhood house
YOUNGSTOWN
The numbers 6-3-1 mean so much to Derrick "D" Jones and his family.
Jones, 33, an acclaimed documentary maker, created "631," a film about his childhood home at 631 Ridge Ave. on the city's South Side. The house is now vacant.
Jones, who teaches at Bowling Green State University, returned to Youngstown several times this year to screen "631," which was very well received.
"It was one of those things where you realize how small the world is and how connected people are even by geography, and that my story and my family's story is just one of many in a neighborhood or city around the country," he said.
Jones was assigned to do a personal documentary for a graduate class at Ohio University in 2008. The following year, the short film was screened at a half dozen film festivals, including the Cannes Film Festival and the Langston Hughes African-American Film Festival.
His mother, Joyce Jones, narrates most of the nine-minute documentary, telling the story of how her parents, Cecil and Naomi Dial, moved to Ridge Avenue in the mid-1950s. Cecil was a county business agent and Naomi was a homemaker. Joyce, the only child, said her family enjoyed a middle-class life.
After graduating from South High School in 1977, Joyce married Dennis Jones, started a family and moved into her childhood home. Joyce's parents had since divorced and her mom, Naomi, moved into an apartment.
Joyce's children, including D, James, now 31, and Nikita, now 22, grew up in the house until an accidental fire destroyed much of the basement in 1997, and then an electrical fire damaged the house in 2000.
"I thought, 'It's time for me to find another place,' after the second fire," Joyce said. "Even thinking about it now, I still get upset. I'll never live there again."
A house isn't just a structure that holds belongings, Joyce said.
"You want to preserve your heritage, and your childhood memories to be passed down. It's a shame when you can't afford to do that. If I won the lottery, if I played in the first place, I would restore that whole house and move back in," she said.
D said creating "631" helped him preserve part of a central part of his family's history.
"History is very important when you consider the legacy of slavery and the robbing of historical roots or connections. Anything you can do to help communicate to future generations where they came from, that's powerful," he said.
Jones said he visualized the project while visiting a friend who produces music. The song they were listening to became the background music to "631."
"I had some old film footage from the house, a lot of photographs and things like that — and this never-ending attachment to that place and the potential for it and the decline of it," he said.
Growing up, D witnessed the onset of the city's decline, too: Businesses closing, crime rates rising, population declining and job opportunities vanishing.
"It fostered a deep desire to flee, to get away from the environment because I didn't necessarily feel as though it would offer me that much," D said.
Returning the last few years, he said he's happy to see, and be part of, an upswing in morale about the city.
"I'm able to come back and be proud of where I'm from and the things people are doing to bring positive contributions to the city," D said.
Joyce said even if her son didn't make "631" public, it's effect would be just as powerful for her.
"I think a home has a soul. Home becomes part of you. It molds you into the person you are today. A house is a material thing that is where your memories and your experiences are," she said.
Joyce still lives on the South Side, on Philadelphia Avenue, and said now when she passes a vacant house, questions pop into her mind.
"I wonder who lived in the house, what things happened there, where are those people now?" she said.
D is working on several other projects, including the second part of "Dark Little Secret," a documentary about mass incarceration and racial disparity in the prison industry.
"Dark Little Secret" was inspired by a play about the 1993 prison uprising in Lucasville.
Still, he said, "631" stands out among his work because it is so personal, yet universal. His wife, natural, viewed "631" before meeting D and said she related very strongly to it as a Toledo native.
"We have suffered from the same thing in regards to industry removed and the city floundering to find its survival," she said. "...The film is about how lives change and how societal changes impact lives. It's a powerful story."
And it's a story that will stay with D, Joyce and their family forever.
"The story itself is like a healing process. ...The house might not last forever, but there's a story here that we can share," he said.