Untainted products go beyond veggies and meat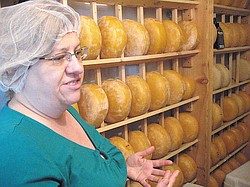 Special to the Vindicator

Photo
Susan Morris of Mayfield Road Creamery talks about raw-milk cheese production while showing a cooler filled with aging Gouda cheese wheels.
ORWELL
Organically raised meat and produce aren't the only hot sellers at local farmers' markets. Cheeses made from raw milk also sell well.
"With the milk from grass-fed cows you can produce raw-milk cheese," said Susan Morris, who operates Mayfield Road Creamery in Orwell in southern Ashtabula County along with her husband, Kevin Morris.
Susan explained that most dairy farmers feed their cows silage, which contains portions of moldy feed. The raw milk from silage-fed cows is not suitable for cheese-making, but the raw milk from grass-fed cows is, as long as it's aged properly.
"The USDA requires that cheese made from unpasteurized milk be aged a minimum of 60 days," Susan said. "We feed grass year-round, even during winter, when we store grass in a silo where it stays cold and pickles. Most dairy farmers aren't feeding this way anymore."
The Morrises have about 200 acres and 40 Holstein cows and do not use growth hormones or milk production hormones. The dairy farm they live on has been in Kevin's family for six generations, and the cows are still milked in the 1800s barn with large hand-hewn beams.
The Morrises established their creamery about four years ago after attending a cheese-making seminar with world-renowned cheese-maker Peter Dixon at the Ohio State University Co-op Extension.
It cost about $50,000 to build the creamery and get the business up and running. Susan said it has taken plenty of trial and error, but they've gained enough knowledge and experience to produce a delicious variety of artisan cheeses.
Their list includes: Mayfield Blue, which is a creamy mild blue; Bloomfield, a French-style Brie/Camembert; Windsor, a mild French-style cheddar; Lockwood, a beer-washed Tomme; Mayfield Havarti, a red waxed Havarti with a smooth, creamy texture; Red Pepper Havarti; Cherry Smoked Havarti; Mayfield Gouda, which has a slight honey overtone; and Markko Gouda, a fruity-flavored cheese that is packed in a Cabernet Sauvignon wine mash and aged.
Cheeses are available in eight-ounce packages or whole wheels. The 8-ounce packages sell for about $5 each.
The Morrises make cheese two or three days per week and produce about 2,500 pounds of cheese per month. About half of what they make goes to Fresh Fork, an online farmer's market. (For more information visit www.freshforkmarket.com.)
They also sell large quantities of cheese to local breweries and wineries, and their Lockwood cheese is washed in Thirsty Dog Beer from Thirsty Dog Brewery in Akron.
"Beer and cheese is the new trend," Susan said.
Local residents also stop by to purchase cheese.
The creamery is located at 2166 Mayfield Road and is open Friday and Saturday from 10 a.m. until 5 p.m. and weekdays by appointment.
Susan also offers cheese-making classes. For more information, call 440-437-8754 or visit mayfieldroadcreamery.com.