Pavlik ready for next step
Pavlik Prepares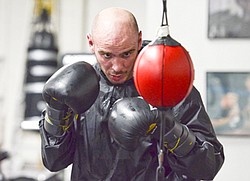 Video
Kelly Pavlik and his trainer Jack Loew share their thoughts on the upcoming Pavlik vs. Lopez match.
BOXING
Kelly Pavlik
vs.
Alfonso Lopez
When: Saturday
Where: MGM Grand, Las Vegas
TV: Showtime, PPV
Tickets: Call Ticketmaster, 800-745-3000
YOUNGSTOWN
Boxing is serious business, no doubt.
But when a little humor has an opportunity to rear its funny head, someone will jump on it.
While Kelly Pavlik and trainer Jack Loew were engaged in various drills in the ring during a recent workout, an ambulance sped past an open door of the South Side Boxing Club.
Almost simultaneously, the pounding Loew was taking from his fighter was ripe for a verbal jab about the trainer's need for the siren-screaming vehicle.
Aside from that, it was preparation for Saturday when Pavlik's past converges with the present before meeting the future.
The ex-middleweight champion's ascension, then year-long layoff to deal with alcoholism forms a straight-line graph that he hopes will continue upward toward another spike.
Even in his prime at 29, The Ghost has to make up for lost time. But the 160-pound class isn't an option any more.
Since losing his belts to Sergio Martinez, Pavlik has worked on his skills for his super-middleweight debut against Alfonso Lopez in Las Vegas.
Pavlik can concentrate on boxing and not spend precious time trying to make weight.
"Now, it's easier to work on head movement, on footwork around the ring and have the energy level be high since we're not killing ourselves," Pavlik said. "That's going to be the big difference in this fight: we want to show people what got us to the point we were at."
Although no radio blared during his workout, Pavlik's scale reading of 166.3 pounds afterwards was music to his trainer's ears.
"That's perfect, like a normal fighter," Loew said. "This week will just be a matter of getting off a pound or two instead of 12 or 13. It's not like getting down to 162 and then have nothing to get rid of."
Loew said Pavlik will probably weigh in at 169 or 169 1/2 and then reach 176-177 on fight night. The division's 168 limit doesn't strictly apply since the fight is a non-title bout.
Having Pavlik clear-headed and spared of energy-sapping weight issues punctuate the training camp's optimism.
"I think you're going to see a little more boxing — getting back to the old Kelly," Loew said. "I think you're going to see setting up that big punch instead of looking for it."
From listening to interviews and watching Lopez, Loew said Lopez is going to try to box.
"He's a puncher, but he's going to try to box us because Kelly's two losses came from guys who moved on us," Loew said. "I've heard that he's going to try to box Kelly and move on him, as did Bernard [Hopkins] and Martinez. But everybody has a game plan until Kelly hits them one time. Then we're going to see how he adjusts."
Expect Pavlik to pace himself rather than look for the home-run ball or wait until the fight reaches the end.
Because it's not a 12-rounder, Loew, kiddingly, referred to it as "a walk in the park," although 12 wouldn't have been a problem, either.
"We haven't been scheduled for 10 for awhile, so the roundage isn't going to be nothing," said Loew. "His condition is great."
Loew sees Pavlik's return as a continuation, not a renewal.
"The only new beginning is that's it's a new weight class."
Pavlik concurred.
"I wouldn't say it's the start of a new career, especially after being a pro for 11 years. I'd say it's a comeback toward a final goal that we want to accomplish in this sport, which is another world title in a different weight class."
Pavlik's strategy will be neither offensive nor defensive.
"I just want to go out and see what happens. Things change in boxing," he said. "You could have a game plan but game plans change all the time in a fight. Most of the time it's been them changing their game plan, once I touch them. I want to hit with shots, counter, try to set the tempo. If we find that we could take them out and I'm landing my punches cleanly, maybe we'll just try to finish it. It not, we'll do what we always do."
Pavlik considers himself more of a complete boxer now, specifically, a boxer-puncher.
"You're not going to see me on a bicycle — floating like a butterfly or anything like that — but I am going to move the head, counter and nicely use the hand speed," he said. "If this kid wants to try to do it [move around the ring], then God bless him, but, as soon as I touch him, the game plan is going to change. That happened with your monsters like Edison Miranda, who fought a lot of top guys and could hit like a Mack Truck, but, as soon as I touched him, the whole game plan changed. That's possibly what could happen in this fight."
Pavlik isn't calling 10 rounds a breeze because of several factors.
"Sometimes, eight rounds is a lot of fighting. It depends on the pace and the action and how many punches are thrown. Lopez is a durable fighter who has been 10-12 rounds, so, you never know if you're going to go to a decision or stop him in the very last round."
Pavlik considers Lopez "a very strong fighter" in a division loaded with talent, but he's anxious to break the ice of a layoff.
"I think it's important to look good against him, especially after a year off and start the track of being a world champion again, this time at super middleweight."
More like this from vindy.com