His talks with Harry Truman led to YSU's oral history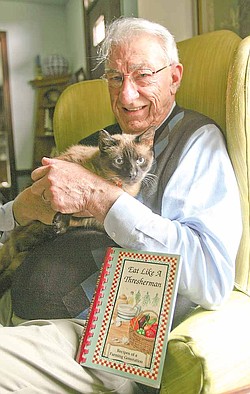 The Vindicator

Photo
Hugh Earnhart holds his cat Boxcar Willie next to their cookbook "Eat Like a Thresherman," a compilation of recipes from Earnhart's grandmother. Willie "helped" Earnhart, a retired Youngstown State University professor, write the book.
Professor emeritus, Lincoln impersonator pioneered use of oral histories in Ohio
By Kristine Gill
POLAND
Having just graduated with his bachelor's degree in history, an eager Hugh Earnhart expected swift hiring at the Truman Presidential Library in Independence, Mo.
He was turned down.
"I did a very dumb and foolish thing," Earnhart said. "The curator said, 'We don't just hire somebody with a bachelor's degree who's still in their 30s. You have to go work in the sweat box in D.C., and maybe one day you'll get hired at a presidential library."
But Earnhart was invited to stick around for a few days to see how the place operated. And each day he ate lunch with former President Harry Truman.
"We talked about everything, the atomic bomb, the conditions for ending the war," Earnhart said. "We talked about his desegregation of the military, and we talked about how he got along with Roosevelt, which wasn't very good; and when he walked into the White House was he prepared for any of that? And absolutely not."
"He was a great guy," Earnhart added. "But never in my wildest dreams did I ask to record the thing."
More than 100 hours of audio interviews with the president are kept at the library, but Earnhart's personal revelation would lead to creation of the first oral history program in Ohio at Youngstown State University in 1974.
Now YSU's oral-history program boasts interviews from 2,200 World War II veterans, YSU professors, steel mill workers and even members of the Ku Klux Klan.
About 1,700 of those have been transcribed and can be read online, said YSU professor Donna DeBlasio, who runs the program.
"A lot of times the people we interview are not going to leave behind traditional material historians use to interpret the past, no journal entries, letters or diaries. They won't necessarily appear in the newspaper until they pass away, things like that," DeBlasio said. "That's how they're really valuable. It's the lives of people who might not necessarily appear in traditional histories."
Earnhart modeled the program after one at the University of California, Berkeley.
At the end of his weeklong visit to the Presidential Library, Truman invited Earnhart over to dinner.
"I went back to the curator's home, and I used every deodorant I could find," said Earnhart, who was expecting a six-course meal. "We had dogs and pork and beans."
Earnhart served in the Navy for four years. He worked at Coral Records, a subsidiary of Decca Records, on the West Coast with performers such as Sammy Davis Jr. and Johnny Desmond.
He later went to college, graduating with his bachelor's degree at Bowling Green State University and his master's degree from the University of Maryland, both in history. He worked at YSU right out of graduate school when the university was still a private college in the early 1960s.
At 78, he said he'd still be teaching if they hadn't offered a buyout that he took in 1996. He was former chair of the history department.
"I never had a bad day," he said. "Some days were better than others, but I never had a discipline problem."
Among his students was Ken Reel, who has been a history teacher himself at Canfield Village Middle School for more than 40 years.
"When he came in and started teaching more about people than about just states and things, he just turned me onto history," said Reel, who took a survey class from Earnhart at YSU in 1964.
"I've tried to put myself into history like he did and find out as much about the people as I could," Reel said. "For every president, I've found out different nicknames, what he liked to eat, what time he went to bed, how his family looked at him. When you finished with his class, you felt like you were back in that time period."
That people-driven approach is what led Earnhart to start dressing as Abraham Lincoln, for his daughter's elementary class and Reel's. At 6 feet 4.5 inches tall, Earnhart stands a half-inch taller than the former president, and until his custom suit shrank at the cleaners, he appeared as the bearded "Honest Abe" for history lessons at local schools.
"It has to come alive," Earnhart said.
Earnhart now lives in Poland with his wife Mary Kay and is working to get a children's book published. His first was a cookbook called "Eat Like a Thresherman," a compilation of more than 800 of his grandmother's own recipes.
"None of them are low-cal," Earnhart said. The recipes are those his grandmother used to feed the wheat threshers who came through town. After her death, Earnhart asked for the shoeboxes full of recipes handwritten on index cards as the family divided her belongings. "They thought, 'There's a looney. Everybody else wants 5 acres of this and that corner cupboard, and he wants recipes. Give it to him,'" said Earnhart, who had help from his Siamese cat, Boxcar Willie, in writing the book.
Willie marked the best recipes in the book with a paw print.
"I laid out all the cards and sorted through them," Earnhart said. "Willie laid in the middle of it."
Earnhart has sold all but 20 copies of the 500 cookbooks he had printed and said it was a good way to share a piece of his grandmother's life with her family.
"History is the story of people," Earnhart said. "People made history — It didn't happen on its own."