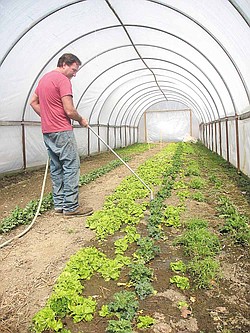 The Vindicator

Photo
Floyd Davis, owner of The Red Basket Farm in Kinsman, waters a mixture of lettuces growing in one of his high-tunnel greenhouses. Davis cultivates pesticide-free produce all winter long and sells it at area farmers' markets and to restaurants in Cleveland.
By REBECCA SLOAN
news@vindy.com
KINSMAN
As consumer interest in organically raised meat and produce grows, local farmers are making the most of this health-conscious trend by selling their goods at area farmers' markets and to restaurants and schools.
It is a movement that Floyd Davis, owner of The Red Basket Farm in Kinsman, calls not only health-smart but also economically wise.
"In the 16 counties that comprise Northeast Ohio, we spend $4 billion annually on food, and only 1 percent of that food is grown
locally," Davis said. "If local growers could develop just
10 percent of that market, we could raise $400 million in local business."
Davis gets his statistics from the Northeast Ohio Ag Bio Science Industry Cluster, a group of individuals looking to develop local
agriculture and bioscience businesses.
Davis said the current global
infrastructure for food distribution largely overlooks the local market, but it doesn't have to — even during the long, cold winter. Davis grows produce year-round at his Mayburn Barclay Road farm, something that often surprises people who believe cultivating fresh vegetables during December is impossible.
"My greenhouses are not heated, but they absorb solar heat," he explained. "During the winter I grow cold-tolerant varieties of plants right in the ground, which does not freeze. It has gotten as cold as 10 degrees inside my greenhouses, and the plants have been OK."
During this time of year, Davis cultivates several varieties of greens and sells them to various restaurants and at farmers' markets in the Cleveland area.
"Farmers' markets are happening year-round, and I can't grow enough to take to the restaurants in Cleveland, where there is a huge movement to buy locally grown, pesticide-free produce," he said.
Davis said the movement is only starting to take root here in the Mahoning Valley.
"I am always encouraging people to ask if their favorite restaurants are getting food from local suppliers and telling people to check out local farm markets," he said.
Davis said the movement to buy locally grown, pesticide-free produce started on the West Coast and ballooned after the highly publicized 2006 North American E. coli outbreak in which spinach, green onions and lettuce contaminated with bacteria caused food poisoning, kidney failure and even a few deaths among a few hundred people.
"It took these types of events to raise awareness, and now people are thinking more about what they eat and where it comes from," he said.
Davis makes his own compost from materials around his farm and also uses a mineral-based fertilizer he purchases from Middlefield. "Everything starts with good, healthy soil," he explained.
Davis also sells produce to the South Euclid Lyndhurst School District as part of the Farm to School Program developed by the Cuyahoga County Board of Health.
"The idea is to serve locally grown produce in schools to boost the local economy and to provide healthy meals for kids," he said.
Davis started The Red Basket Farm in 2002.
"I started small, selling sweet corn," he said. "By 2005, things had really taken off."
He now has three high-tunnel greenhouses on his property and farms about 18 to 20 acres of open fields. He plans to add more greenhouses.
High-tunnel greenhouses, also known as hoop houses, are fairly easy to assemble and can cost as little as $500 to $1,000.
During warm months, Davis partially opens the panels on his high tunnels for increased ventilation, but even when partially open, he said insect infestations aren't an issue inside the greenhouses.
Although he uses pesticide-free farming methods and classifies his produce as organic, Davis stressed that his produce is not "certified organic."
"'Certified organic' is a USDA term that involves a long list of government regulations and paying to have your farm inspected," he said.
Simply stated, organic produce is grown without the use of pesticides, synthetic fertilizers, sewage sludge, genetically modified organisms, or ionizing radiation. The term "organic" also applies to meat, poultry, eggs and dairy items that have been produced without the use of antibiotics or growth hormones.
Melissa Miller, who owns Miller Livestock Co. in Kinsman along with her husband, Aaron, said products don't have to be "certified organic" to be considered organic or advertised as organic.
"The term 'certified organic' is a USDA term that has been around for 30 years," she said. "We don't pay the government to be certified organic, but we use organic methods to raise our beef, pork and poultry, and so we call our products organic."
The Millers raise grass-fed beef and lamb and pastured pork and poultry and do not use pesticides, commercial fertilizers, hormones or antibiotics.
"Since 1999, we have used only organic fertilizers and no chemicals," Aaron said. "Right now we have about 80 head of cattle, 30 pigs, 40 ewes and about 60 lambs on the way."
The Miller farm, at 9590 Kinsman Pymatuning Road, consists of 175 acres, 85 of which are used for grass grazing.
Melissa said the meat from grass-fed livestock is higher in CLA (conjugated linoleic acid) and omega 3s, higher in B vitamins and a little leaner than meat from livestock that eat a grain concentrate. Aaron said it has a "unique taste" because of how it is raised.
The Millers practice high density or mob grazing, which means livestock have a fresh section of grass each day.
They said this type of grazing helps break down the parasite cycle and is also more environmentally friendly since tractors are not needed to haul feed to livestock.
"Basically we put our cattle into a small paddock and let them forage for a day. Then you put them in a new paddock the next day, and let the area they foraged on previously rest and recover," Melissa explained.
Aaron said this type of farming is not nearly as dependent on fossil fuels as traditional farming methods because the farmer is "making the animal do the work that the tractor would do."
"We divide a large field into sections and move the cows from one section to another when typically farmers would be planting corn on their land and using tractors to spread manure and to haul the feed to the cows in the barn," he said. "With this type of farming, we are trying to find a way to be friendly to the environment while using a minimum of fossil fuels. We are also harnessing solar energy to grow the grass."
Even during winter, the Millers feed their livestock grass that has been harvested and stored.
The Millers said only about 1 percent of local farmers farm this way, but the trend is growing.
"If the price of fuel keeps going up, farmers are going to have to find different ways to farm," Aaron said. "We are at a critical point with fossil fuels."
Like Davis, the Millers said there is a heightened awareness among consumers regarding what they are eating, the methods used to raise it and whether it has been grown locally or shipped from thousands of miles away.
And like Davis, the Millers also sell a large percentage of their products to restaurants in the Cleveland area and at local farmers' markets.
"We sell at the Howland Farmer's Market and at Tremont Farmer's Market in Cleveland," Melissa said. "And we also encourage people who go to local restaurants to ask where their meat comes from and to ask for locally grown products. There are a lot of good farmers in this area who need a market for their stuff."
The Millers have a farm store at their home that is open by chance or appointment. For more information, call 330-876-5655 or visit http://millergrassfed.com.
For more information on The Red Basket Farm, call 330-876-9118 or visit http://www.redbasketfarm.com.