New Hubbard school draws rave reviews from kids, parents
Hubbard Elementary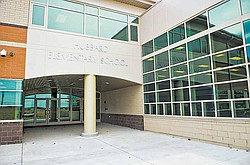 Gallery
The new Hubbard Elementary School, which will open this fall, took 18 months to build. It will replace Roosevelt Elementary School, which will be torn down. The $14.6 million school is the first part of a three-stage, $56 million project that will also include a new middle school and high school.
By Jeanne Starmack
HUBBARD
Angelea and Savanna Rudes were celebrating a new era at an open house Saturday for their new elementary school.
Gone are the hair-grabbing old chairs of Roosevelt Elementary School, and here to take their place are the smooth, plastic-backed chairs of Hubbard Elementary.
"The seats won't pull my hair," said Savanna, 6, who will be going into second grade. She and her sister Angelea, 8, an up-and-coming fourth-grader, don't have to worry about their long, black hair getting tangled on the rivets of the old-fashioned chairs at the old school. It will be torn down.
Those same chairs were there when the girls' mother, Genene, went to Roosevelt Elementary.
"I agree with my daughter," said Genene — she and Angelea think the new school looks more like a high school. She confessed, though, that she misses the old slate chalkboards — the new school's 36 classrooms are equipped with SMART boards that use interactive computer technology instead.
Their father, George, likes the synthetic gym floor.
What was the old school like, compared with the new one? Angelea summed it up in one word: "Small."
Then she and Savanna went off to explore the courtyard in the center of the wings that hold classrooms for pre-kindergarten through fourth grade. The classrooms are all on the second floor of the 90,000-square-foot, $14.6 million school.
The family was among a large crowd that turned out to see the school, built on the Hubbard Exempted Village School District's Hall Avenue campus.
Coming in through the main entrance, people turned right and immediately saw the curved wall of windows in the new, airy, open cafeteria. Or they turned left and explored the reception area and administrative offices, which feature a conference room, the nurse's station, the guidance counselor's office and plenty of storage, said Raymond Soloman, the building principal.
The gym also is on the main floor.
Upstairs, the classrooms are separated according to grades on different wings. The music and art rooms are there too, and there is an entrance that connects to the Hubbard Community Pool.
The new school is the second stage of a $56 million project to build three new schools.
The new $22 million high school opened in September 2010 on the 67-acre Hall Avenue campus. Reed Middle School will be torn down next, and a new middle school is expected to open in the fall of 2012, said schools Superintendent Richard Buchenic.
Approximately 700 pupils will be in the new elementary school this fall, he said, and the new middle school will have about 650.