The Oakland's 'Fat Pig' examines relationships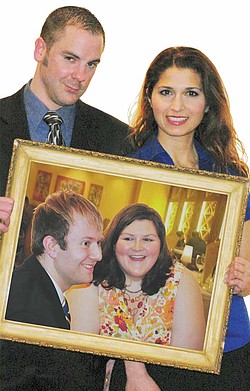 GREEN CANDY CASE PHOTOGRAPHY

Photo
The cast of "Fat Pig" at the Oakland includes (standing) Jason A. Green anDenise Bayer; and (in frame) Kyle Merritt and Jenna Cintavey.
IF YOU GO:
What: "Fat Pig"
Where: The Oakland Center for the Arts
When: 8 p.m. Friday and Saturday; and April 8, 9, 15 and 16
Tickets: Call 330-746-0404
After an extended hiatus, Christopher Fidram ("Dinner With Friends," "Rabbit Hole") is finally stepping back into the director's chair with the upcoming Oakland Center for the Arts production of Neil LaBute's controversial "Fat Pig." During a recent interview, Fidram discussed the dangers of helming a show whose title alone has the potential to send audiences screaming in the opposite direction.
Q. You've been wanting to direct "FP" for several years now. Why did you wait so long; and what was it about the material that struck such a chord with you?
A. Six years to be exact (laughs). And every year I'd pick up the script and put it back down. I'm not easily scared by provocative material, but the play's subject matter — and the places it takes its characters — definitely frightened me a little.
Over the years, several friends who've read the play (many of whom had dealt with weight issues of their own) urged me to give it another look. They felt it was a story that had to be told, and their words convinced me to re-examine the material and find the heart of the piece. When I held auditions, more than half the actors came to read for Helen (the lead role). She's a character whom many people relate to, and her struggles really mirror our own. I guess I'm just a sucker for plays about regular people in uncomfortable situations (laughs).
Q. Some people are likely to be offended by the title alone. How would you defend LaBute's choice of words?
A. My first thought was, "Why did LaBute have to name it that?" But the play deals with how quick we are to make assumptions of others, and the ways we often dismiss or categorize people who dare to be different. Even those of us claiming to know better might immediately assume the play's title must refer to Helen. And maybe it does. Or perhaps the "pig"-gishness refers to a certain type of social behavior. Either way, the title is a definite attention-grabber.
Q. What's the story line?
A. Tom is your basic "everyman" who strikes up a conversation with Helen, a funny, intelligent and overweight woman one day at lunch. They make an instant connection, and Tom realizes an attraction to Helen — and a happiness he hasn't experienced in a long time. Knowing that he must contend with the judgment of his co-workers (one of whom is an ex-girlfriend), Tom decides to keep their budding relationship a secret. Naturally, it's only a matter of time before the beans are spilled. When people ask if "FP" is a drama or a comedy, I tell them it's a love story.
Q. Who did you get to appear in the play?
A. Tom and Helen are played by Kyle Merritt and Jenna Cintavey, and the co-workers are played by Jason Green and Denise Glinatsis Bayer. With the exception of Denise, they're all new to the Oakland stage. I'd never worked with any of them before, and it's been a real pleasure. Our stage manager is theater veteran Barb Evans.
Q. What do you hope audiences take away from the play?
A. I could say that the play's message is "accept and appreciate people for who they are" which, although true, is also somewhat generic. For me, the play is about learning how to trust yourself and finding the happiness you deserve.
More like this from vindy.com