Tempers flare as SB 5 approved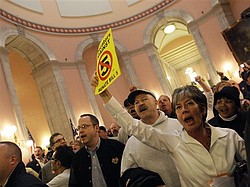 AP

Photo
Protestors gather in the rotunda at the Ohio statehouse after Senate Bill 5 passed through the Ohio House of Representatives Wednesday, March 30, 2011, in Columbus, Ohio. The bill would strip public employees of collective bargaining rights.
By Marc Kovac
COLUMBUS
Lawmakers gave final approval Wednesday to legislation limiting collective bargaining by public employees, sending the bill to Gov. John Kasich.
The governor is expected to sign it into law before the end of the week.
Senate Bill 5 passed along mostly party lines. In the House, the vote was 53-44, with five Republicans joining Democrats in opposition.
The Senate vote was 17-16, with six Republicans voting "no."
Union protesters watching in the House and Senate erupted in anger after the votes were announced, yelling "Ohio hates you," "Repeal it" and a few expletives before being escorted from the chambers.
The contentious sessions capped weeks of committee hearings and protests that drew thousands of union members to the Statehouse to voice their opposition to Senate Bill 5.
In total, the legislation was subject to 13 hearings and 60 hours of testimony from 200-plus witnesses, said Rep. Joe Uecker, a Republican from Clermont County and chairman of the committee that considered the bill.
But those sessions did little to sway either side, with most Republicans calling the legislation a necessary step to cut public spending and Democrats calling it a "union-busting bill" that would hurt middle class families.
"You guys are very focused on the 350,000 state, municipal and local public employees," said Rep. Bill Coley, a
Republican from Middletown. "And our side of the aisle is equally concerned about those employees. But we're all concerned about the over 500,000 Ohioans who don't have a job. And we have to right the ship of state to get our costs in control."
Those two sides likely will come to a head in coming months, as opponents launch a petition drive to place Senate Bill 5 before voters in November.
If that happens, the law changes will not take effect until after the election — or possibly not at all if Ohioans reject it.
"The majority of the people in this state are against this bill," said Rep. Dan Ramos, a Democrat from Lorain. "And by the majority of all people I don't mean [just] Democrats.... I cannot tell you how many people have told me, who've texted me, who've Tweeted to me, 'I'm a Republican but I'm
against this,' or even 'I'm a member of the Tea Party but this goes too far.'"
Senate Bill 5 would allow collective bargaining for all public employees, but would limit negotiations to wages, hours, safety equipment needs and other terms and conditions. Health care premium payments and other issues would not be included.
Both sides would be required to disclose more information about their contract demands. Pay rates and raises would be based on employee performance, not just seniority.
Public employees would be prohibited from striking but, Republicans said, would not face jail time for doing so.
The legislation also would prohibit "fair share" payments required of employees who do not want to be members of a union.
And binding arbitration would be replaced by a dispute resolution process that ultimately puts contract decisions before locally elected officials, though citizens, in certain instances, could force the resulting decisions to election ballots through a referendum.
"Under current law, an unelected arbitrator can force a spending decision on local officials and the people they represent even if every person ... in the city, township or county opposes it," said Rep. Lou Blessing, a Republican from southwestern Ohio who supported the provision. "There is no consent of the governed."
But opponents, including Sen. Bill Seitz, a Republican from Cincinnati, said the legislation is written to always favor management and not workers in the dispute resolution process.
"This is a fundamentally rigged process," he said.
And Sen. Tim Grendell, a Republican from Chesterland, added "I will flap my arms and fly home before you see a referendum under Substitute Senate Bill 5."
In the end, Republicans who voted for the bill said the changes were needed to enable state offices, school districts and local governments more control over their costs.
"Government needs to be more efficient, absolutely," said Rep. Lynn Wachtmann, a Republican from Napoleon. "Most of my constituents are sick of paying higher taxes and getting service that isn't always the best from government at all levels."
He added, "This bill respects all workers because it will help us serve the people of Ohio better through better operations of government if local governments choose to."
Proponents also said the legislation would enable public workers to continue to negotiate labor terms.
Rep. Ron Young, a Republican from Lake County, said the bill still allows public employees to have up to six weeks of vacation time, 12 paid holidays a year and 1,000 hours of sick time.
"People in the private sector would die for these benefits," he said. "These are fantastic benefits."
But Democrats countered that the legislation has little to do with budgets and everything to do with politics.
"The clear message being sent: You were not on the bus, so you're getting run over," said Rep. Matt Szollosi, a Democrat from Toledo.
Szollosi said public offices already have the power to control their costs, with union members taking pay cuts and making other concessions to deal with the economic downturn.
"If this were truly about the budget and the need to contain costs, here's a radical idea: ask for concessions," he said. "Communicate. [But] not one phone call was made by the administration, not a single phone call, to the state unions asking for the reopening of negotiations."
Minority Leader Armond Budish, a Democrat from the Cleveland area, was the last minority party member to speak during Wednesday's House Debate.
He asked, "Why get rid of collective bargaining when it's done so much good, raising up the working poor? One argument I've heard today is that government officials give away too much. They can't stand up to organized employees.
"... So let me make sure that I understand your argument: State employees are overpaid because prior Republican administrations were weak negotiators and poor administrators and couldn't stop themselves from giving away too much money?
"And now the only solution is to get rid of collective bargaining because the current Republican governor, the current Republican House and the current Republican Senate are afraid they also are too weak to stand up to those big, bad, tough union negotiators."
Rep. Bob Hagan, a Democrat from Youngstown, said Senate Bill 5 disrespects public employees and caters to wealthy interests.
"This is an attack on the middle class," he said. "When corporations have increased their profits 200 and 300 and 400 percent while the unemployment level in this state has been around 8 and 10 percent, when we're fighting wars all over the place and we can't fund opportunities for people
to go to work in Youngstown, Ohio, something is terribly wrong."
Wednesday's House session included frequent outbursts of applause and occasional guffaws from about 180 union protesters in the audience. The noise prompted Republican Speaker Bill Batchelder to warn, "We're going to clear the balcony if it's necessary."
Hundreds of other protesters chanted and booed outside of the House chambers. They rallied following the House session, cheering in support of Democrats' vows to gather the necessary signatures to place the issue on the November ballot.
"We have not seen the last of it," said Sen. Joe Schiavoni, a Democrat from Canfield. "The signatures will be collected and it will be placed on the ballot in November. And at that time, all of Ohioans, whether they work in the private or public sector, will get the opportunity to right the wrongs that they voted in the last election."


• Protesters Erupt at House Vote
Union protesters watching in the House erupted in anger after the vote was official, yelling "Ohio hates you" and "Repeal it" before being escorted from the chamber.



• March 28 Kasich Gaggle
Gov. John Kasich and DRC Director G. Mohr answer reporters' questions about the sale of five state prisons, income taxes, collective bargaining and other issues following a press conference in Marion.



• March 30 House GOP on Senate Bill 5
Republican lawmakers comment on Senate Bill 5 prior to House vote on the bill. Speakers include Batchelder, Adams, Huffman, Uecker and Blessing.



• March 30 Kasich on SB5
Gov. John Kasich comments on Senate Bill 5 prior to the House vote on the legislation.



• March 30 Kasich on Change
Ohio Gov. John Kasich talks about Change.



• Senate Chant on SB5
Union protesters chant "Mama, mama can't you see what John Kasich's done to me" before the Senate comes back into session to consider Senate Bill 5.



• Solidarity Forever Chant in Senate Chambers
Solidarity Forever chant by union protesters before Senate Bill 5 vote.



• March 30 Kasich Transportation Budget Signing
Ohio Gov. John Kasich signs two-year transportation budget. Lawmakers commenting during the ceremony include Patton, Widener, McGregor, Amstutz, Wilson.



• March 30 Kasich Q and A
Reporters ask Ohio Gov. John Kasich about biennial transportation budget.



• March 29 More Senate Floor Scene
More video in the Ohio Senate chamber prior to the vote on Senate Bill 5. Loud booing after Sen. Shannon Jones, Republican sponsor of the bill, enters.



• Final Senate Vote on SB5 with Audience Outbursts
Here's the scene during the final vote on Senate Bill 5, with protesters continually interrupting the final vote count with shouts and singing.



• March 30 Jones and Niehaus on SB5
Republican Senate President Tom Niehaus and Republican Sen. Shannon Jones discuss Senate Bill 5 following the Senate's concurrence vote.


More like this from vindy.com