Youngstown schools restructuring goal: more options, savings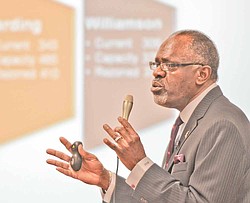 The Vindicator (Youngstown)

Photo
Connie Hathorn, superintendent of Youngstown city schools, presents his plan to a large crowd at the board of education offices Wednesday.
THE PLAN
Youngstown city schools
are looking to restructure
the district to better serve
students while trimming costs.
The district also hopes to better meet the diverse needs of the students.
The plan is built on finding dedicated teachers, parents and students and best educating them in appropriately sized classes, and by having the students attend schools with curricula suited toward their career goals.
All existing elementary buildings will stay open.
Building and class sizes will be
adjusted to serve academic and social needs of children.
MLK Elementary will be rezoned to reduce class sizes, with some students being sent to Harding and Williamson.
Volney and Wilson will house all sixth- and seventh-grade students.
Provide more focus on academic, social and behavioral expectations.
Double periods of math and
language arts.
Individual evaluation on where students need extra help or enrichment.
P. Ross Berry will house all eighth- and ninth-grade students.
Focus on academic rigor, social-
emotional and behavioral expectations.
Double periods of math and language arts.
Staff trained on development needs of students.
Merge alternative programs to Mary Haddow building.
Chaney will house Rayen Early College; science, technology, engineering and mathematics (STEM); and visual and performing arts (VPA) students.
East will offer new electives: business, education and law-related coursework.
Chaney loses sports, gains emphasis on sciences, arts
By Denise Dick
YOUNGSTOWN
Parents and business leaders expressed support for a plan to restructure the city schools beginning this fall.
The plan will convert Chaney High School to a science, technology, engineering and math school, as well as a visual and performing arts school.
Students at East, meanwhile, will take a survey to determine their interests, allowing them to choose a career path. Though they will still take the core curriculum classes, the survey results will enable students to align their elective courses with a business, education or law career path. Art, music, advanced placement and College in High School will still be offered at East.
"East will not be a dumping ground," said Superintendent Connie Hathorn. "We'll still have strong academics over there."
The change will offer more choices for students and better serve their needs, he said.
"We're trying to retain students and bring students back," Hathorn said.
The district is rated in academic emergency by the state, the lowest rating — and the only district in the state so designated.
"We can't continue to do what we're doing," Hathorn said.
East will house 10th through 12th grades, and all sports teams and the marching band will be there. Students at Chaney and YEC will still be able to participate in those extracurriculars.
Chaney will house students in sixth through 12th grades in the STEM or visual-performing arts programs. The school day will be extended.
Hathorn estimated that the plan will save about $2 million annually. It also will mean fewer teachers in the district.
Lock P. Beachum Sr., school board president, said the board fully supports the plan.
"The goal of the plan is for the success of our students," he said. "That should be the No. 1 concern on everyone's list."
Choffin Career and Technical Center and Youngstown Early College won't change.
Mike Garvey of M7 Technologies, a member of the newly formed business advisory committee for the schools, said one of that company's partners will provide $900,000 of free software for the STEM school at Chaney.
"It will enable students to work with the cutting-edge software that everyone in the world will be using to build rocket ships and to build tanks," Garvey said.
The Rev. Lewis Macklin, pastor of Holy Trinity Missionary Baptist Church, who has children in the schools, likes the plan.
"We have to do something different for the educational excellence of our children," he said. "It's an opportunity for us. We have the opportunity to give it a try to see it move our best foot forward. It's going to take community buy-in and support, and that will have to start with the adults and community leaders before it starts with the children."
The Rev. Mr. Macklin said how children view the changes will be a reflection of how adults feel about it.
"If they see any division among us, it's an opportunity for the children not to support it. We need to stick together with one collective voice" supporting the plan, he said.
"Everyone — faculty, parents, neighbors — every adult has to be willing to invest in the future of the school district," Mr. Macklin said.
He has two children who graduated from Chaney and a daughter at P. Ross Berry. Another daughter attends Youngstown Community School but will attend the city schools when she enters seventh grade, he said.
Middle schools
The district's three middle schools also will see restructuring.
P. Ross Berry will become an eighth- and ninth-grade academy, and Wilson and Volney Rogers each will house a sixth- and seventh-grade academy.
There will be double periods of math and language arts at all of the middle schools.
Hathorn said many parents who send their children to district elementary schools remove them when they're ready to enter middle school because of the perception that those schools are out of control.
He hopes that by moving eighth-graders to a different building, parents will keep their children in the middle schools.
Hathorn said he will recommend to the Academic Distress Commission that teachers at the eighth- and ninth-grade academy have to apply, be interviewed and selected for those jobs. The state-appointed commission has the authority to bypass seniority in making assignments.
Those teachers selected will have to report to work earlier in the fall than other schools and receive specialized professional development.
Students are sometimes held back in ninth grade because they're not ready for high school. Hathorn's plan aims to remedy that.
"Hopefully, this will reduce the dropout rate and increase the graduation rate because we're getting those kids ready for high school," he said.
Rayen Early College Middle School, which houses sixth- through eighth-graders on the fourth floor of Choffin, will move into the Chaney building.
Student eligibility to attend Chaney will be based on application, interviews or auditions, and those chosen will have an extended school day.
Grade schools
The grade alignment of the elementary schools will stay the same, but there will be rezoning at three of those buildings to create a more equitable distribution of students.
Martin Luther King Elementary now has 490 students and was built with a 350-student capacity. That means fourth- and fifth-graders who attend MLK are housed at P. Ross Berry Middle School.
By rezoning, 65 of those students will go to Harding Elementary and 65 to Williamson Elementary.
The district's three alternative school programs — University Project Learning Center, Twilight and Redirections — will be combined into one program and housed at the former Mary Haddow School building. It's a smaller building than the former Hayes Middle School building where UPLC is now; the closed building on Oak Street Extension will be reopened.
That will trim utility costs, Hathorn said.
Will Bagnola, president of the Youngstown Education Association, the union representing district teachers, said YEA doesn't have a reaction since the plan was just announced.
He said that he personally is "trusting Dr. Hathorn with his experience and his knowledge of the situation to do what he thinks is in the best interest of the district."
Tony Paglia, vice president of government affairs at the Youngstown/Warren Regional Chamber, said the district needs something that will help it make progress.
"Dr. Hathorn said he wants to make change and wants to lead the district forward in a positive manner," said Paglia, who also is chairman of the P16 Council. The council focuses on preparing students at each stage of education for the next stage.
"We are hopeful that these changes will make a difference," Paglia said. "The P16 Council stands ready to help Dr. Hathorn in any way we can to improve the district and to move it forward."