Hundreds turn out for chamber protest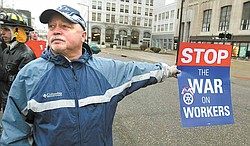 The Vindicator (Youngstown)

Photo
Youngstown firefighter Joe Caraballo joined more than 400 protesters Wednesday afternoon in opposition to the Youngstown/Warren Regional Chamber's endorsement of Senate Bill 5. The protest was outside the chamber's headquarters downtown. The bill was sent to the governor Wednesday night.
By Kristen Russo
YOUNGSTOWN
More than 400 people protested Wednesday afternoon outside the Youngstown/Warren Regional Chamber's headquarters downtown because of the chamber's endorsement of Senate Bill 5.
The bill, to curtail some collective-bargaining rights of public employees, was approved 53-44 in the Ohio House and later by the Senate on Wednesday.
A number of attendees said they planned to start petitioning for a referendum against SB 5 to appear on the November ballot.
"I'll keep fighting until the day I'm dead. That bill is the most disgusting piece of reading I've ever looked at, and I've read some of the grizzliest police reports," said T.J. Assion, president of the Fraternal Order of Police Lodge 141 for the Mahoning County Sheriff's Department. Assion also spoke at the rally.
Kevin Miller, president of the International Brotherhood of Electrical Workers Local 573 in Warren, said he has signed up to petition for signatures and plans to attend every rally against SB 5.
"I think it's a slap in the face to every union person in this town," Miller said of the chamber's endorsement of the bill.
Joe O'Grady, president of the Fraternal Order of Police Lodge 34 for the Warren Police Department, expressed disappointment in the chamber board members, many of whom he said are personal friends.
"I'm sort of appalled, knowing them personally and knowing they know what the Valley's about," O'Grady said, citing the strong union presence in the Mahoning Valley. "We have to be a team to get this Mahoning Valley back on track," he said.
O'Grady and Miller both spoke at the rally.
Fireline Inc., a Youngs-town-based refractory manufacturer, also announced Wednesday its withdrawal of membership from the chamber in response to the endorsement.
"We work so closely with our guys, and our guys are in the Steelworkers union. It seemed like an insult to me," Roger Jones, chairman of Fireline's board of directors, said of the chamber's stance on SB 5 at a news conference at Fireline's production facility, 300 Andrews Ave.
Jones said he sent a letter to Tom Humphries, the chamber's president and chief executive officer, outlining his reasons for ending the company's membership.
"We're sorry to see [Fireline] drop their membership, but we respect their decision to do so," Tony Paglia, vice president of government affairs for the chamber, said in an interview Tuesday.
Earlier this month, the chamber's board of directors conducted an e-mail vote to endorse SB 5.
In a March 10 interview with The Vindicator, board member Don Crane said eight members voted for the endorsement, one voted against it, five abstained and nine did not cast a vote. Crane said he voted against the endorsement.
Although the chamber's endorsement will have no political or financial impact on the company, Robert Wimer, president and CEO of Fireline, said he thinks it's bad for business.
Gary Steinbeck, subdistrict director for United Steelworkers, agreed.
"When people start losing bargaining rights and their benefits start eroding and their wages start eroding, they're not going to be able to support the businesses here in this Valley," Steinbeck said.
Steinbeck also conducted the protest. At the rally, protesters carried signs that read, "Stop the war on workers," and chanted, "Who's got to go? Humphries has got to go."
That same chant was later aimed at the governor.
Dave Green, president of United Auto Workers Local 1714, stood before the crowd holding up an award he received from the chamber last year and said he planned to return it.
UAW Local 1714 represents workers at General Motors' Lordstown plant.
"They honor labor on one hand and then attack collective bargaining on the other," Green said in an interview after he spoke.
Jim Graham, president of UAW Local 1112, also was present at the rally though he did not speak. UAW Local 1112 also represents workers at GM's Lordstown plant.
"The chamber totally overstepped their bounds and showed their true colors, and it's a shame," Graham said.
In an email late Wednesday night, Bonnie Deutsch Burdman, the chamber's board chairwoman, said the chamber is proud of its past relationship with labor.
"We regret that the recent action has caused a divide between the Chamber and labor," she continued. "Going forward, the Chamber board [Wednesday] agreed to temporarily suspend electronic voting, which was used in the past. The Chamber's Government Affairs Council will revamp voting procedures to enhance the opportunity for broader discussion on particular issues."
Mark Munroe, chairman of the Mahoning County Republican Party, issued a statement in support of the chamber and SB 5.
"Tom Humphries and the Chamber of Commerce showed great courage in standing up for taxpayers instead of bending to the selfish interests of local Democrats and public-sector unions," Munroe said.
"SB 5 is a common-sense solution to help rein in bloated government and out-of-control spending. The bill gives school districts and local governments the tools they need to control their costs so they will be less likely to raise taxes and drive more jobs out of Ohio," he said.