---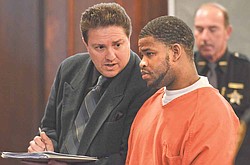 The Vindicator (Youngstown)

Photo
Defense lawyer Anthony Meranto, left, speaks to his client Michael Harsch, 26, of Warren at Harsch's sentencing before Judge Maureen Sweeney of Mahoning County Common Pleas Court. The judge sentenced Harsch to 15 years in prison Wednesday for crimes committed against his former girlfriend in 2009.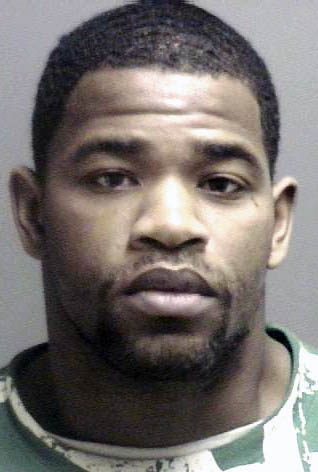 Photo
YOUNGSTOWN
A Warren man is headed to prison for 15 years for kidnapping, raping and robbing his former girlfriend, burglarizing her home and fleeing from a state trooper, but the former girlfriend left the courtroom visibly upset.
Michael Harsch, 26, of Fourth Street, was set to go on trial for a list of charges related to the kidnap and assault of his girlfriend, but entered into a last-minute plea agreement with prosecutors. He pleaded guilty to three counts of aggravated burglary, two counts of aggravated robbery, three counts of kidnapping and failure to comply with the order of a police officer.
Harsch appeared for sentencing Wednesday before Judge Maureen Sweeney of Mahoning County Common Pleas Court.
Harsch entered into a plea agreement in the case previously and was sentenced to 30 years in prison. He later withdrew the guilty plea because, as stated by his lawyer, Anthony Meranto, at the time Harsch signed the agreement he erroneously believed he would be sentenced to no more than 10 years in prison for concurrent sentences on all the charges.
Carla Baldwin Fields, an assistant county prosecutor, this time recommended a sentence of 25 years for Harsch, who already has spent 738 days in the county jail.
"The state would ask the court to impose the full 25 years," Fields said to the judge. "She [the victim] has experienced things that no woman should have to experience in her life. Her life is forever changed."
The former girlfriend told the judge she has had to go through court proceedings twice and now wants to put the issue behind her and move on. She asked the court to impose a stiff sentence on Harsch, even going above the recommended 25-year sentence.
"I don't think 25 years is adequate. ... I hope this time is it and I don't have to go through this again," she said.
The woman, along with another unidentified woman, left the courtroom quickly and visibly upset after the sentence was handed down.
Meranto, before sentencing, told the court his client is apologetic about the situation and should serve no more than 10 years.
Harsch read a prepared statement just before Judge Sweeney handing down the 15-year sentence. He apologized to the victim and asked the court for a lesser sentence than the 25-year recommendation.
"I take full responsibility. My actions were despicable," he said. "I was in love with this woman, and it caused me to do things I regret to this day."
Judge Sweeney also ordered Harsch to serve five years of probation upon his release from prison. He must also register as a sex offender.
The charges against Harsch stem from two separate attacks on the same woman in the span of a week.
The victim returned from work to her Myron Avenue residence March 18, 2009, and found that Harsch had broken into her East Side home, police said.
Police said Harsch raped her there at knife point, choked her, threatened to kill her and forced her to drive him to her father's residence, where he forced her at knife point to open the door with her key.
There, Harsch stole a revolver and a shotgun before forcing her to drive to an automated-teller machine and withdraw $400 and ordering her to drive him to Florida, the victim told police.
While they were in West Virginia, she said she talked Harsch into returning to Youngstown, where he got out of the car.
A few days later, the woman told police she came home and ran away after hearing someone run down her steps.
Harsch chased and caught her on the street, forced her into her car at gunpoint, and drove her into Trumbull County, where he crashed the car and was captured by an Ohio State Highway Patrolman after a vehicle chase, authorities said.