Celtic Woman Another wave of Irish music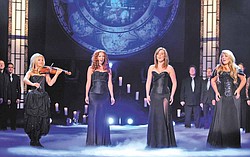 AP FILE PHOTO

Photo
IF YOU GO
Who: Celtic Woman
When: 8 p.m. Saturday
Where: Covelli Centre,
229 E. Front St., Youngstown
Tickets: $32 and $62 at the box office
By John Benson
It was more than six years ago when Irish actress-singer Lisa Lambe first heard that composer-producer David Downes was co-creating performance act Celtic Woman.
At the time, Lambe was actually in a musical with Downes being the musical director. Apparently, the talented songwriter remembered her because late last year, she was named the newest member of Celtic Woman, the ensemble known for its unique renditions of standards, classical favorites and contemporary hits.
"I've always been a fan of the whole show," said Lambe, calling from Boston. "Music is always a huge part of my life, so it's great to be able to tie the theatrical side of things with music and get to perform with such an amazing prestigious show. I suppose it feels like a homecoming for me. It's held in such high regard in Ireland. It's a fantastically stunning show, an amazing spectacle."
Since its stateside debut in 2005, the adult contemporary act — featuring awe-inspiring vocalists and a mesmerizing Celtic violinist — has sold more than 6 million CDs/DVDs worldwide, earned two Top 10 album debuts on the Billboard Top 200 and sold more than a million concert tickets. Now the act, which finds Lambe joining Lisa Kelly, Chlo ´ Agnew and M °ir ad Nesbitt, returns with its "Songs from the Heart Tour," which comes to Youngstown for a Saturday show at Covelli Centre.
The tour includes renditions of Jimmy Webb's "The Moon's a Harsh Mistress," Billy Joel's "Goodnight My Angel," Andrew Lloyd Weber's "Pie Jesu," "Amazing Grace" and Irish classics "My Lagan Love," "Galway Bay" and new favorite "N l S 'n L °." Considering the large repertoire, how difficult was it for Lambe to get up to Celtic Woman speed?
"It's been a very quick turnaround in terms of learning the music, but I think coming from a stage and theater background, I'm used to the quickness of how things fall into place," Lambe said. "That was a challenge, but I have to say I have never felt so welcome and into something like I have now with Celtic Woman. They've greeted me with open arms and such love. So any challenges that happen are easily kind of put to rest. Because when you are surrounded by people who are so positive and such a show like this, you strive to be the best you can. That's what's great about being in Celtic Woman."
American audiences apparently agree that Celtic Woman is something special. In fact, ever since "Riverdance" arrived on red-white-and-blue shores exactly 15 years ago, Celtic music has grown in popularity with shows such as "Lord of the Dance" and acts such as Celtic Woman keeping the Irish music flowing. What is it about this form of music that keeps audiences wanting more?
"I think it resonates here," Lambe said. "Since way back when, Irish people have traveled the world, which helps the music spread. There's also a strong storytelling element to Irish music, and I think that really, really grabs people's attention. Who doesn't want to hear a really good story? The music is always about love and land and lost hope and all of those things that people want to hear. It really moves people. It's uplifting. It rings in your ear and makes you happy. That's what everyone wants, especially when you come to a show like ours."
More like this from vindy.com