NO BEACH BUMS HERE: Prep cage stars have their night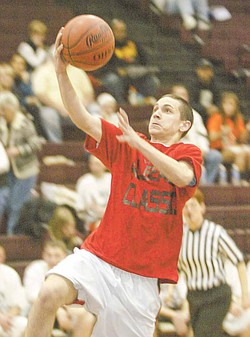 The Vindicator (Youngstown)

Photo
Dan Campolito of Canfield goes for a 2-pointer during Al Beach Classic at Boardman Monday.
GIRLS
WHITE 48
RED 44
BOYS
WHITE 96
RED 91
By Greg Gulas
BOARDMAN
Craig McFerrin scored 10 of his team's final 16 points and the White squad overcame a 13-point second half deficit as they defeated the Red team, 96-91 to highlight action Tuesday at the Mahoning Valley Coaches Association 41st annual Al Beach Classic at the Boardman High gymnasium.
McFerrin, a native of Baton Rouge, La., and a first-year member of the Warren Harding Raiders, had a game-high 26 points, also adding eight rebounds en-route to game MVP honors.
In the opening game of the evening, Briana Lewis of Champion copped MVP laurels with nine points, four assists and two steals to pace the White team to a 48-44 decision over the Red squad.
"Everyone will tell you they were out there to have fun but deep down they all wanted to win," said McFerrin. "We played hard the entire night despite being down by double-digits in the second half.
"When we made out move, I told my teammates that we had to step it up a notch and that is exactly what we did.
"We peaked at just the right time; late in the game and then got some key stops when we needed them most. That was the difference in the game," McFerrin said.
The Red squad raced to a 12-0 lead right out of the gate on the strength of seven points by Canfield's Dan Campolito.
They increased the lead to 25-9 at the 12:15 mark of the opening half on a bucket by Lee Johnson of East, but when McFerrin scored eight of his 10 first half points in the final three minutes of play, the White team was able to cut the deficit to 53-42 at the half.
Trailing 87-76 with 5:27 remaining, the White squad ended the game on a 20-4 run to seal the victory.
In addition to McFerrin, Howland's T.J. Lanier (18 points) and Jonas Ballard (13 points) of Austintown Fitch scored in double figures for the White team.
Johnson's 14 points and 10 more by Campolito paced the Red squad as all 15 players scored on the night.
In girls action, the Red squad took the early 5-2 lead barely five minutes into the game, went scoreless for the next eight minutes and 10 seconds and never recovered as they fell by a 48-44 count.
"We really didn't get to practice prior to the game so coach [John Baytos of Warren JFK] told us to concentrate on our free throw shooting during pre-game warm-ups. That proved to be good advice," said Lewis.
"Everyone knew their roles tonight and we just came together in the second half," Lewis added.
Canfield's Cally Wollet won the girls 3-point shooting contest while Evan Standohar, a freshman from Girard High captured the boys long distance bucket assault.
Boardman's Le Andre Jackson win the boys slam dunk competition with Ursuline's Khiree Gregory finishing as runner-up.
Long time boys coach and current YSU women's assistant John Cullen, who won 472 scholastic games during stops at Canfield, Brookfield and Badger, was presented with the organization's Contribution to Sports Award.
Ken Grisdale (Poland) and Joe Savko (Struthers) received boys coach of the year awards while girls coach of the year honors went to Mark Baker (Newton Falls), John Grandy (Struthers), John Diehl (Howland), Roger Zeigler (United), Tony Matisi (Lowellville) and Josh Scott (Western Reserve).