Finally! Cavs get their revenge on LeBron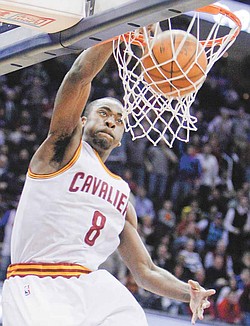 ASSOCIATED PRESS

Photo
Cleveland Cavaliers' Christian Eyenga dunks against the Miami Heat in the second quarter of an NBA basketball game Tuesday, March 29, 2011, in Cleveland.
CAVALIERS 102
HEAT 90
Next: Cavaliers at Charlotte, today, 7 p.m.
Associated Press
CLEVELAND
As he left the arena, Cavaliers coach Byron Scott smiled and accepted fist bumps and congratulations from security guards lining the hallway.
"Coach," one of them said, "we're going to talk about this one all summer."
And probably for many more.
Cleveland got the win it wanted most.
Take that, LeBron.
Despite blowing a 23-point lead, the Cavs battled back to beat the Miami Heat 102-90 on Tuesday night, getting a small dose of satisfaction against James, the franchise's biggest star who was making his second homecoming visit to Cleveland since bolting last summer.
J.J. Hickson scored 21, Anthony Parker scored 20 and unsung center Ryan Hollins threw around his weight for the Cavs, who were embarrassed by the Heat 118-90 on Dec. 2 — a night when Cleveland fans unleashed pent-up hatred on James, the native son who scorned them.
This time, it was James who left the floor beaten. He finished with 27 points, 12 assists and 10 rebounds and had to endure another night of constant booing from fans who once cherished his every move but now view him as a bitter enemy for betraying them.
James took the loss in stride, giving the Cavs credit they deserved.
"Anytime we play anybody, we know we're going to get the best out of them," James said. "They came out and played extremely well. It was a good win for them."
It was more than that for Cleveland.
James' departure was a crippling blow to a city that hasn't celebrated a championship since 1964, and a region desperate for something positive to happen.
For at least one night, Cleveland rocked again.
"This was for the fans and for their support," Cavs guard Daniel Gibson said. "They've stayed behind us and this was a way of saying thank you."
In the closing seconds, the sellout crowd of 20,562 cut loose at a victory even the most loyal Clevelander couldn't have imagined.
On the floor afterward, Parker, whose last 3-pointer with 2:47 left capped a 12-0 run and put the Heat away, addressed Cavs fans.
"You guys deserve it," he said as the fans erupted.
Later, Parker said the Cavs were out to fix what went wrong on Dec. 2.
"The first time we played them here, we were embarrassed and they took a little from us," he said. "This is the night that we wanted to get that back, for us, but more for the fans. That was great getting it back for them."
The Cavaliers were a different team — literally — from the one that laid down against the Heat here in December. Injuries and trades have reduced Cleveland's roster to a shell of the one James played with and helped win 60 games last season.
The Heat rallied from a 71-48 deficit, tying it at 83-all on Mike Bibby's seventh 3-pointer with 7:03 left. But Miami went scoreless for 4:24, allowing the Cavs to get just their 15th win — and most lopsided this season.