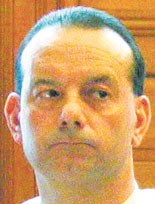 Photo
Warren Patrolman Jeff Hoolihan
By Ed Runyan
WARREN
The father of three Warren boys who were ordered to the ground at gunpoint in their backyard a year ago by Warren Patrolman Jeff Hoolihan has filed a federal lawsuit against Hoolihan and the city.
The suit was filed by Atty. Andrew J. Thompson of Cleveland in Youngstown federal court on behalf of Anthony B. Simmons, of Sarkies Drive Northeast, father and guardian of his three sons, age 7, 9 and 10. It seeks at least $375,000 in damages.
Named as defendants are the city of Warren, Hoolihan, Police Chief Tim Bowers and Safety-Service Director Doug Franklin.
Bowers said Tuesday he had not seen the lawsuit and would not comment.
The suit says the boys had just come home from school March 26, 2010, and tried to enter the back door of their home, but the door was locked, so they went to a neighbor's house, where a friend lived, and tried to open that door.
Finding it locked also, the boys returned to their yard, when Hoolihan came into the yard "with his revolver drawn and aimed directly at the children. He yelled at the children to 'Get down, get down,'" the suit said.
"The children immediately complied ... and were face down on the wet, muddy grass in their backyard," the suit continued.
Hoolihan, gun still drawn, asked the boys where they lived and searched one of the boys' book bags. At about the same time, their father looked out the back window of his house and saw Hoolihan standing over the boys with gun drawn and went into the yard, identified himself and informed Hoolihan that the boys lived there, the suit said.
The suit noted that Hoolihan received a written reprimand for the incident and that Bowers had said Hoolihan had an unblemished record during 21 years with the department.
Hoolihan said he snuck up on the boys because he thought they were burglars in the act of committing a break-in because they were "running, stumped down, trying to avoid detection."
The suit said the Simmons boys "suffered severe, debilitating and ongoing injury, emotional distress and harm, as well as medical expenses" as a result of the incident, and the "damage to the children is ongoing and likely to be permanent."
Hoolihan "profiled" the boys based on their race, the suit said. The boys are black, and Hoolihan is white.
The city, Bowers and Franklin failed to properly train, supervise, counsel and/or discipline Warren police officers, including Hoolihan, in areas such as proper use of force, the suit said.