Train derailment response pleases officials
Train Derailment in Newton Falls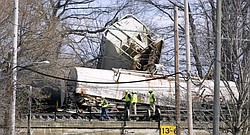 Gallery
NEWTON FALLS — A CSX train carrying ammonia and chlorine was heading west when it derailed from the railroad tracks near North Center Street in Newton Falls at about 6:45 a.m. today. Residents living within a 500-foot radius of the derailment - including workers at the Cadle Co. – were evacuated and taken to the Newton Falls Community Center. No injuries have been reported.
By Ed Runyan
NEWTON FALLS
Monday's train derailment in Newton Falls was the first handled by the Trumbull County HazMat Bureau in its 29-year history.
The episode will serve as a useful training tool, HazMat Chief Don Waldron said.
"Right now, we're pretty comfortable with it," Waldron said of the response. "Our resources were tremendous this morning."
Waldron said the bureau took videos and photos of the accident and will have those available when it comes time to review the response that resulted from the 6:45 a.m. scare.
Because hazardous materials were in some of the train cars, the accident could have released a large chemical spill, but none of the cars that derailed contained haz- ardous chem- icals, Wal-dron said.
"That could have been very, very dangerous," Waldron said.
A CSX train carrying ammonia and chlorine was heading west when it derailed from the railroad tracks near North Center Street in Newton Falls about 6:45 a.m. Monday.
Both Waldron and Newton Falls Fire Chief Richard Bauman said they were pleased with the response of firefighters, HazMat officers and others, whose vehicles filled up acres of parking near the Newton Falls Municipal Building.
"I'm very pleased, especially considering the time of day," Bauman said of the response. Because the derailment occurred about 7 a.m., most volunteer firefighters were at their regular jobs, he said.
Matthew Neiheisel, 25, of Jay Street, one block south of the derailment, said he heard the loud "boom, boom, boom" of the train derailment and thought "What the heck was that?" he said.
"It was loud. It sounded like an earthquake," Neiheisel said, "like fireworks and a train."
Nieheisel has grown accustomed to railroad noises, so he went back to sleep until a relative called him on the phone and warned him that authorities might be ordering an evacuation. A short time later, they ordered him out of the house, Neiheisel said.
Around 10:30 a.m., about 30 people were at the community center, where the American Red Cross had brought coffee and snacks.
Shirley Westfall and her daughter, Sarah Westfall, of North Center Street, heard the derailment.
"The trains always make a noise, but this one ... I said, 'Wait a minute. Hey, this train is hanging down,'" Shirley Westfall said.
In addition to numerous fire departments, personnel also arrived from the Youngstown Air Reserve Station, Ohio Environmental Protection Agency, Ohio Department of Transportation and Public Utilities Commission Hazardous Materials Safety Enforcement.
By noon Monday, dozens of firetrucks and hazardous-materials vehicles were leaving Newton Falls, and 12 tractor-trailers carrying derailment equipment were taking their place near two damaged railroad trestles.
Throughout the afternoon, workers from R.J. Corman Derailment Services LLC worked to remove the 14 derailed train cars from the tracks that pass east and west through downtown.
On the Center Street trestle, a couple of train cars had fallen off sideways onto North Center Street, while others were in less obvious states of disarray on the trestle.
The Center Street and Canal Street trestles were damaged and will be closed for an unspecified amount of time, authorities said.
Officials at the scene and CSX railroad spokesman Gary Sease said they don't know what caused the derailment. Sease said clearing the wreckage could last as long as 48 hours.
"We'll be conducting an investigation over the next few days to determine what happened," Sease said.
Tom Mock, spokesman for the General Motors plant in Lordstown, said damage to the track will not affect incoming or outgoing parts or cars at the facility.
Fourteen cars derailed — most of them tumbling off the tracks and down a hill — but none contained hazardous materials, Waldron said.
The accident didn't cause any injuries, though one Newton Falls firefighter received treatment after he fell on the train tracks.
Waldron said that when he first learned of the derailment, it sounded like a very dangerous situation, because four of the 111 train cars contained chlorine, four contained ammonia and two contained Styrene.
Waldron called for assistance, and hundreds of firefighters and other first-responders from all over Northeast Ohio came to town, setting up in the yard of the former high school two blocks south of the derailment, while police closed off entrances to downtown.
The Newton Falls Fire Department quickly evacuated residents from about 200 homes and a couple businesses near the railroad tracks, encouraging them to go to the town's community center.
"Then, we learned that the cars were safe," Waldron said of the 14 cars that derailed.
"We were very fortunate that we had no hazardous-materials spill," Bauman said. "If we'd have had one of the chlorine cars [involved in the derailment], we'd have had major problem and a lot more evacuations."
The derailed cars carried steel coils, or were empty, or contained a substance that could catch fire if it got wet but otherwise didn't pose any danger, Waldron said.
By around 9:45 a.m., six firefighters wearing orange hazardous-materials suits had walked around the wreckage, looking for leakage but found none, Waldron said.
A relatively small amount of diesel fuel spilled from a building called the Newton Falls Tower, owned by CSX, located beside the tracks near the North Canal Street trestle, Waldron said. Crews had begun to clean that up Monday morning.
The fuel spilled because one of the derailed cars hit the building, Waldron said.
A stationary CSX train on an adjacent track made minor contact with one of the derailed cars, Sease said.
Corman Derailment workers planned to work through the night to get the derailed cars cleaned up, Sease said. The train was carrying a variety of products and empty cars, Sease said.
Contributor: Staff reporter Kristine Gill
More like this from vindy.com