YSU Theater offers cabaret-style revue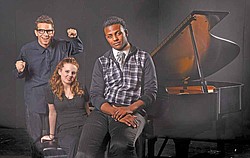 Photo
From left, Joey Alvey, Deanna Scott and Josh Green, all Youngstown State University students, step into character while rehearsing for University Theater's upcoming original musical cabaret "Blossoms & Bliss," opening Thursday in Spotlight Arena Theater.
IF YOU GO
What: "Blossoms & Bliss"
When: 7:30 p.m. Thursday and Saturday (no Friday show), and April 8 and 9; 3 p.m. Sunday and April 10; and 10:30 p.m. April 9. Seating begins a half-hour before each show.
Where: Spotlight Arena Theater, Bliss Hall first floor, Wick Avenue, Youngstown State University.
Tickets: $10 ($5 for non-YSU students and seniors; free for YSU students); call 330-941-3105.
By GUY D'ASTOLFO
YOUNGSTOWN
Youngstown State University Theater is trying something new.
It's "Blossoms & Bliss," a cabaret show with table seating, a dessert menu, singing waiters and dozens of tunes from the American songbook.
It will also mark the directorial debut of Nancy Andersen Wolfgang, who teaches musical theater at YSU.
Spotlight Arena Theater, the flexible black-box space in Bliss Hall, has been completely rearranged for "Blossoms."
Three of the seating banks in the theater-in-the-round room have been removed. A stage has been erected at one end, with a bar along one side and small round tables in the center. A seating bank with 28 chairs will remain in the rear. Seats will also be available at the bar.
Two, three or four patrons will be seated at each of the 21 tables, which will be covered with linens. The tables, Wolfgang noted, were rescued from the former Wick-Pollock Hotel, just down the street.
A dessert table will be displayed in the lobby, where food tickets can be purchased. Wait staff will take orders tableside, beginning about a half-hour before the show and again at intermission. Coffee and nonalcoholic beverages will also be available.
Wolfgang came to YSU in 2007, having previously taught at Las Vegas Academy, a performing arts high school in that gambling mecca.
The show is a musical revue, with no dialogue. The 15-person cast — eight stage performers and seven waiters — will move around the room, performing standards from opera to Gershwin to the present.
Each of the eight singers will sing four songs that will tell their own story in a presentation that is only partially choreographed.
"We are recreating the New York cabaret experience," said Wolfgang.
The idea for the cabaret show first arose last year, when the theater department went looking for a low-cost production option for its 2010-11 season.
The template was the small productions that Wolfgang's musical theater classes stage. "We decided to take that idea and blow it up into a full-fledged production," she said.
If the cabaret is a success, it could be included in future seasons, she noted.
"Blossoms & Bliss" is PG-13 in nature, due to language and sexual innuendo. It is not recommended for young children.