Robin's 'Robin' wins award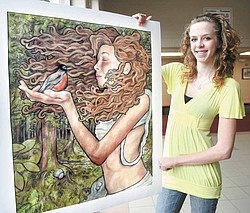 The Vindicator (Youngstown)

Photo
Robin Rockney, a senior at Canfi eld High School, was accepted into the 2011 Ohio Governor's Youth Art Exhibition. Her work titled "Robin and The Bird" will be on display along with other winners from around the state in the James A. Rhodes State Tower from April 10 to May 12. There also will be an awards ceremony April 10 at the Riff e Center Capitol Theatre.
GOVERNOR'S AWARD
The 41st Ohio Governor's Youth Art Exhibition recognized 300 works of art for this year's competition. More than 12,000 were submitted this year. Art of any media or size is accepted from all Ohio high-school students grades nine through 12.
Other area winners include:
Tara Martin of Warren G. Harding High School, "Warm"
Maria Rouzzo of
Struthers High School, "Burning Bridges"
CANFIELD
It's obvious at first glance that Robin Rockney's chalk pastel is a self-portrait.
The waves of chestnut curls that fall on the Canfield High School senior's shoulders are the same ones blowing across the paper.
"I wanted to do something with hair because I have a lot of it," the 17-year-old said.
But if that wasn't apparent off the bat, the work's title might give you a clue. "Robin and The Bird" is one of three area winners in this year's Ohio Governor's Youth Art Exhibit, which recognized 300 out of 12,000 entries submitted across the state. In the piece, Rockney is holding a robin in her palm in the middle of an ethereal forest of blues and greens. Soft light peeks through a thick canopy of trees behind her.
"The assignment was a persona project," she said. "I'm still sort of confused exactly what that means."
Rockney prefers oil and acrylic paints. Chalk pastels can be messy, and the colors blend. And if she makes a mistake, it's difficult to lighten an area she's made too dark.
"Your hands are all dusty when you're done," she said.
But she chose the medium because she knew she'd be able to mix colors easily to replicate nuances of skin tone. Evidence of her success is shown in the lines of color along her arm and cheekbone that give form and depth to the abstract depiction of herself.
"I didn't really want it to be so mystical," she said. "But I ended up wearing a toga and it ends up looking like a goddess."
The hair was the hardest part for Rockney. Once on the 32-by-38-inch paper, it set what she described as a tranquil tone for the rest of the piece.
"My hair is normally a big, frizzy mess," she said.
Rockney's teacher, Kevin Hoopes, said that though he admires the beauty and talent of the piece, what he really values is its message.
"I'm most excited that it communicated a facet of Robin's personality," he said, adding that it all boiled down to hard work.
"She's very conscientious, very particular. We had a lot of very long conversations about that piece," Hoopes said.
Rockney also won an honorable mention for "Robin and The Bird" at the regional level of the 2011 Scholastic Art and Writing Awards. Seven other Canfield students earned silver keys and two won gold keys at that level.
Rockney is also the third-chair trombonist in the symphonic band, which takes up much of her time now. She hopes to major in architecture at Kent State University in the fall and later at a school out of state.
Winners of this year's Governor's award will be recognized at a ceremony at The Riffe Center Capitol Theatre in Columbus on April 10. The works will be on display at the James A. Rhodes State Office Tower in downtown Columbus through May 12.