Auto crisis worsens as Japan shutdowns drag on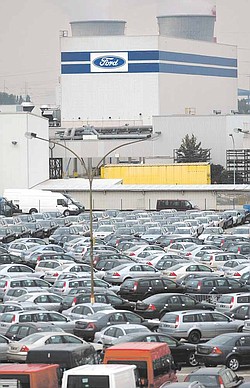 ASSOCIATED PRESS

Photo
In this Oct. 1, 2003 file photo, a general view of the Ford Motor Company plant in Genk, Belgium, is seen. Ford Motor Co. said Saturday, March 26, 2011, it will idle their plant in Genk for five days, trying to conserve supplies of Japanese parts that could run low following an earthquake and tsunami. Ford spokesman Todd Nissen said the plant will close beginning April 4. The company had planned to idle the plant in May for another reason. But it moved up the date after auto parts suppliers in Japan were damaged by the twin disaster on March 11.
Associated Press
TOKYO
The auto-industry disruptions triggered by Japan's earthquake and tsunami are about to get worse.
In the weeks ahead, car buyers will have difficulty finding the model they want in certain colors, thousands of auto-plant workers will likely be told to stay home, and companies such as Toyota, Honda and others will lose billions of dollars in revenue. More than two weeks since the natural disaster, inventories of crucial car supplies — from computer chips to paint pigments — are dwindling fast as Japanese factories that make them struggle to restart.
Because parts and supplies are shipped by slow-moving boats, the real drop-off has yet to be felt by factories in the U.S., Europe and Asia. That will come by mid-April.
"This is the biggest impact ever in the history of the automobile industry," says Koji Endo, managing director at Advanced Research Japan in Tokyo.
Much of Japan's auto industry — the second-largest supplier of cars in the world — remains idle. Few plants were seriously damaged by the quake, but with supplies of water and electricity fleeting, no one can say when factories will crank up.
Hitachi Automotive Systems, which makes parts such as airflow sensors and drive-control systems, is waiting for its suppliers to restart while dealing with its own problems. A spokesman says he doesn't know when its plants will reopen.
The uncertainly has suppliers, automakers and dealers scrambling. And it exposes the vulnerability of the world's most complex supply chain, where 3,000 parts go into a single car or truck. Each one of those parts is made up of hundreds of other pieces supplied by multiple companies. All it takes is one part to go missing or arrive late, and a vehicle can't be built.
When General Motors briefly shut a pickup plant in Shreveport, La., due to a lack of parts, it caused the partial closing of a New York factory that supplies engines for those trucks. Sweden's Volvo has warned that its production could be disrupted because it is down to a week's worth of some parts.
Car buyers will see higher prices and fewer choices. Some car colors will be harder to get because a paint-pigment factory in Japan was damaged and shut production. Ford is telling dealers to stop ordering "tuxedo black" models of its F-150 pickup and Expedition and Navigator SUVs. It's also shifting away from some reds. The moves are precautionary, Ford says.
Customers also face rising prices for models such as Toyota's Prius, which is made only in Japan.
Toyota and Honda expect shutdowns at North American plants.
More like this from vindy.com