Poland, a safe enough place for Japanese family
Sean Hiramatsu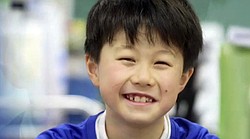 Video
Sean Hiramatsu a 10 year - old boy from Japan is living with friends in Poland, Oh. His parents sent him to the U.S because of the situation in Japan.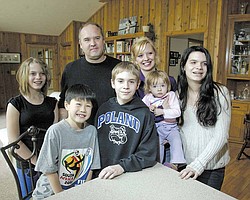 The Vindicator (Youngstown)

Photo
Sean Hiramatsu, 10, of Tokyo enjoys spending time with his host family in Poland. With him at right is Brendan McBride, 13; and, back row from left, Madeleine McBride, 11; David Simonelli, Michele Simonelli, Syliva Simonelli, 17 months; and Bridgette McBride, 15. He began attending classes in Poland last week. His family in Japan believed Poland would serve as a haven from the aftermath of the recent earthquake.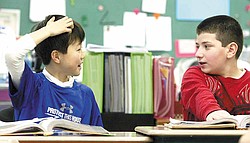 The Vindicator (Youngstown)

Photo
Sean Hiramatsu, 10, of Japan interacts with a classmate at McKinley Elementary School in Poland. Sean's parents sent him to the Mahoning Valley after the earthquake and tsunami in Japan earlier this month. With Sean in math class is fellow fifth- grader Mark Pompeo.
By TODD FRANKO
Where is the safest place in the world?
Fearing death amid the aftershocks after Japan's crippling earthquake, it was a simple question born in the optimistic innocence of a 10-year-old boy.
It's a belief that somewhere in this great, big world, there must be a place that is always good.
And always safe.
Hedie Hiramatsu answered his son's question honestly.
No place in the world, Hedie told Sean, is perfectly safe.
Hedie knows.
He was in New York City on 9/11 — among the many places his job as a television executive has taken him. Now he's back in his native Japan amid new horrors. More than 10,000 people are dead, and more than 17,000 others are missing — all from a March 11 earthquake and ensuing tsunami. Crippled nuclear power reactors add to the terror each day.
Hedie and his wife, Roochie, live in Tokyo, about 250 miles from the epicenter of the quake. And the couple decided there was one place where Sean would be pretty safe: Poland, Ohio.
On Monday, Sean joined new classmates at McKinley Elementary School after a whirlwind travel itinerary that whisked him out of harm's way. He's now in the hands of Michele and David Simonelli and the Poland community.
The disaster that chased Sean from Tokyo will also determine how long he's gone.
LONG TIES TO FAMILY
But it's a decades-long friendship that landed Sean here — one that started when Hedie was a foreign exchange student at Struthers High School in 1980.
"I've known Hedie since I was 9 years old when he stayed at my grandparents' home in Struthers," said Michele. She and David are parents to Bridgette, Brendan, Madeleine and Sylvia. And now, Sean.
McKinley principal Ed Kempers said he had a few days' warning that Sean could be arriving, and on Monday, there he was.
"It's like he's been here the entire year," Kempers said. "There's not a new-student look about him."
Much of that has to do with Sean and his background. In Tokyo, he attends American School in Japan, which is an international school where English is the main language. He and his parents make frequent trips to the U.S.
Sean and his mom Roochie were in Poland in 2008 when David and Michele wed. Ironically, Sean and Hedie were in Poland just a month ago as the Hiramatsus were exploring sending Sean to high school here.
Instead, he's a student now.
DETAIL-ORIENTED BOY
Sean is a precise boy.
He can't reference the two countries without noting the time difference or the date difference, and how those change depending on if you're coming here or going there.
He's that way with lots of details — like why he flew to D.C. instead of Pittsburgh, which would have required a flight transfer in Chicago, or the immense pain his dad must feel about 9/11 and how Sean avoids asking questions about it.
And he makes friends easily.
"My friends back home are kind of quiet. Here, they're kind of out there," Sean said with a smile.
His two schools share similar subjects and length of school day. He even plays tackle football back home.
There is one difference he offers with a sly grin.
"No offense to the cafeteria ladies back at my school, but this place is better; much better. I probably shouldn't say that. The pizza there is like frozen pizza. By the taste, this is much better."
Sending Sean to the U.S. was a decision both decisive and easy, said Hedie in an e-mail.
After the quake, the government had warned all foreigners to stop coming and encouraged those who were there to depart if they could.
When the Fukushima Nuclear Power Plant 160 miles away began having difficulties, the decision was final.
"My wife and I both feel very relieved," Hedie said. "[The Simonellis] are people I can trust most in the world since we share such a long-time relationship through three generations."
Hedie's television work and Roochie's treatment for cancer prevented them from leaving with their son.
"As much as [Hedie and Roochie] miss him, they're putting his health ahead of everything," Michele said. "This is their only son, their life."
MEMORIES OF QUAKE
Sean stares off as he describes the moment the earthquake struck. It was a Friday and the family was in a car headed to the school for a parent-teacher conference.
"All of a sudden, people started running out of buildings. It was scary.
My mom started to freak out," Sean said. "My dad parked the car not really close to any trees or buildings so they would not collapse on our car."
After the quake, Michele said it took a day for them to connect with Sean's family because telecommunications were among the casualties in the quake's aftermath.
When they did connect, the idea of sending Sean to the U.S. was discussed.
It took a day or so for the Hiramatsus to decide, then get paperwork set with the U.S. embassy in Tokyo. The process was eased a bit in that Sean has U.S. citizenship because he was born in New York City. Since the Simonellis are lawyers, Michele knew the proper paperwork to obtain.
Sean was put on a waiting list for a flight, and got one after four days. Last Saturday, he walked off the plane in Washington, D.C., after a direct flight from Tokyo — just him, an envelope of guardianship paperwork and an instant new family.
ADJUSTING TO LIFE IN US
"We didn't plan anything big for him as we just wanted him to slide into life and a normal routine — our normal routine," said Michele on Friday, still catching her breath from it all.
Sean's never had siblings, so showering is "take-a-number," laughed Michele.
Brendan has never had a brother or a roommate, so he's adjusting, too.
In their College Avenue home, the after-school antics are like any home with five children. Then, each night, the Simonellis and the Hiramatsus half a world away power up Skype on the Internet to catch up on each other's day. When it's 8 p.m. here, it's 9 a.m. there.
While it's going great here, it's not so great in Tokyo.
Sean's school back home is set to reopen in late April. But the daily news is of radiation scares, food shortages and blackouts. Hedie says it's unclear when Sean will return.
Kempers said laws require the district to educate any child under care in Poland, so there are no restrictions from the district. And as a student, he's been a living text book for his classmates.
"An event that took place half a world away is affecting little Poland, Ohio," Kempers said.
Sean spoke to his entire fifth-grade class this week. He smiles at the various questions they asked about the earthquake and tsunami. Two McKinley students started a fundraiser for Japan due to Sean. Those funds will go to the American Red Cross, Kempers said.
His Tokyo friends' lives are all scattered, Sean said.
"I used to have friends over all the time. Now they are all over the world. I don't think I can ever forget this."
Michele said there was a small bout with homesickness the first night.
But since then, Sean's adjusted. But he does have plans for when he gets to go home — family and cheese.
"I want to check on my grandparents and other family members and see that they're OK," said Sean. "And my mom has to have cheese when I get back, or I'm going to say 'I'm going to have to go back to America.' "
GOAL ONE: SEEKING SAFETY
Mainly, Sean just wants the feeling of safety.
Japan is an earthquake-prone land, and the stairs in his home rattle a certain way when a quake strikes. It's imbedded in his brain. He would typically take refuge under a table with his dog.
"I've been in many earthquakes, but this was the biggest one. I was scared. I didn't want to die because I'm so young."
Now, he just wants to be safe.
Hedie recounts talking to Sean about there not being a completely safe place in the world.
But there are places that are safer. He told Sean:
"It's the place where the people there give you as much love as you get from your parents."
Todd Franko is editor of The Vindicator. He likes e-mails about stories and our newspaper. E-mail him at tfranko@vindy.com. He blogs, too, on vindy.com.