Faith soothes Jamail's family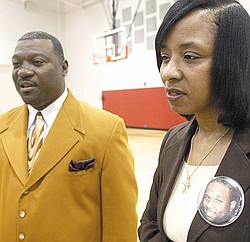 The Vindicator (Youngstown)

Photo
Shirlene and Sidney Hill, mother and stepfather of murder victim Jamail Johnson, discuss how they have coped with their son's shooting death last month.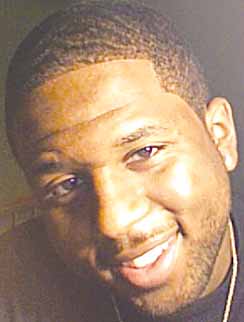 Photo
Jamail E. Johnson, 25, of Youngstown, was killed during a shooting that injured 11 others early Sunday at 55 Indiana Ave. near YSU.
UNDER ARREST
Charged
The status of the six men charged in the shooting of Jamail Jackson as reported by a Mahoning County jail spokesman:
Columbus Jones: Charged with murder, felonious assault and shooting into a habitation, in jail.
Mark Jones: Charged with murder by way of complicity, felonious assault and shooting into a building, in jail.
Jamelle Jackson: Charged with murder, felonious assault, carrying concealed weapons, tampering with evidence, obstructing justice, in jail.
Demetrius Wright: Charged with carrying a concealed weapon, free on bond.
Brandon Carter: Charged with obstruction of justice, free on bond.
Braylon Rogers: Charged with illegal possession of a firearm. free on bond.
YOUNGSTOWN
The family members of Jamail Johnson say they are still grieving nearly two months after his death.
They say, however, they are comforted by family, friends and, most importantly, God.
It was the early morning of Feb. 6 that Shirlene Hill, Jamail's mother, and other family members received word that the 25-year-old Youngstown State University senior had been killed.
According to police reports, Jamail was shot while trying to maintain peace and usher others away from gunfire at a party just off the YSU campus.
Shirlene Hill said the support from the community and friends since her son's death has been wonderful. She said the family is relying on faith and continuing Jamail's work with youths to get through the healing process.
"We are taking this one day at a time, and it is only because of the God we serve that we are able to make it," she said. "I believe in God, and I believe that from here forth everything will be all right."
Jamail tutored and mentored youths in his spare time.
Shirlene Hill's husband, Sidney Hill, said giving back to young people as Jamail did is something that makes every member of the family feel close to Jamail even in his death.
The family has started efforts such as Project Jamail, where shoes are given to deserving youth, as a means of keeping Jamail's spirit of giving alive. Jamail had worked at an athletic shoe store to help pay his way through school, and he had quite an athletic shoe collection.
"This makes us feel close to Jamail to keep giving these young kids what he was giving them — a positive attitude and a way to be a leader," Sidney Hill said.
Shirlene is holding to her faith in God and in the legal system to properly handle the investigation into the six men charged in connection with her son's murder.
Of the six arrested, one man has entered into a plea deal and is out on bond, two others are free on bond, and the three others remain in Mahoning County jail.
Shirlene said the release of the first man from jail shortly after the shooting when he entered into the plea agreement was difficult. She learned of his release while watching television and wishes she had been notified by law-enforcement authorities beforehand.
"That broke my heart. It's like I was stabbed in my heart twice," she said.
Virginia Faircloth, a cousin, said the release of some suspects on bond has been difficult.
"It's hard, especially when you go places and run into people who played a part in this. It is rough, but we pray ourselves through it," Faircloth said.
Shirlene said she is offering a prayer to the families of the men charged with her son's death. She said she cannot imagine if it were her son implicated in the murder of another person's child.
"Both sides are suffering in this. No family wins," she said.
Lynn Johnson, Jamail's aunt, said it is difficult to find comfort, but if there is any comfort to be had it is in the fact that Jamail's "last moments were a testament to his entire life." She said it was no surprise he died while trying to maintain peace and help other people.
Lynn Johnson said she and other family members took Jamail, who was due to graduate in May, to China as an early-graduation present, and she is happy to have given that gift so she can now cherish those memories.
Sidney Hill said it is important for every family to build memories and cherish loved ones daily.
"Just know where your kids are and really love them while they are here because you just never know when that [final] day may come," he said.