Entering 2nd year, Hess adds to his role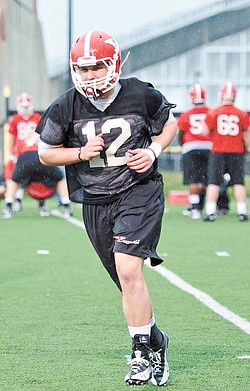 The Vindicator (Youngstown)

Photo
Youngstown State quarterback Kurt Hess during the team's first spring practice Wednesday at Stambaugh Stadium.
By Joe Scalzo
YOUNGSTOWN
At this time last year, Kurt Hess was a redshirt freshman quarterback fighting for a job with three other guys in front of a new coaching staff that hadn't exactly rushed to embrace the previous coach's recruits.
Hess had several goals on each play. ("Don't forget the play," for instance.) But after earning the starting job coming out of camp, Hess played every meaningful down for the Penguins last fall, earning conference freshman of the year honors despite going 3-8.
Now, entering his first spring as the unquestioned starter, Hess looks bigger, (slightly) quicker and more comfortable, both with his assignment and everyone else's.
Case in point. On Wednesday's first day of practice, Hess was working with junior college transfer Mark Pratt at center and he was calling out blocking assignments by name.
Problem was, Pratt doesn't know anyone's name yet.
"So I'm like, 'Oh crap, I've got to make sure I'm calling out everyone by numbers,'" Hess said Friday. "I did it again today. But we're getting there. We're talking.
"Every day we go out before blitz periods and I say, 'Hey, talk to each other so we know what's going on.'"
Part of this is self-interest — quarterbacks really, really like it when linemen know their blitz assignments — but part is the bigger workload expected of him.
"I've gotten a good sense of what I'm supposed to do and how I'm supposed to get the ball out to people, but I think the offense would run a lot smoother if I know what's going on [with everyone else]," said Hess, who set YSU's freshman record by throwing for 2,117 yards last season. "Last year we had three seniors on the line and they knew everything that was going on. This year I'm going to have to be the guy who says, 'You've got to block this guy.'"
Hess, who had surgery on his left wrist in the offseason, spent the past few months watching film and improving his speed and strength to better deal with the physical nature of YSU's conference. Although the 6-foot-6 Hess weighed 220 pounds last fall, offensive coordinator Shane Montgomery said he thought he wore down toward the end of the season.
"It was the first time he played and he played just about every snap in 11 ballgames," Montgomery said. "Hopefully he'll be a lot stronger this year."
Montgomery said he's noticed a huge progression from where Hess was at this time last year and plans to give him more responsibility when it comes to changing plays.
"Last year, we did a lot of checking to the sideline to make sure we were in the right play and this year I think he can do a lot more of that himself," Montgomery said. "He understands the offense a lot better. Things I had to tell him in the fall, he's the first guy to tell me now.
"He knows exactly what's going on before I can tell him anything and I think that's just being comfortable in the system. He's going to make tremendous strides throughout the spring."
Hess said his main goal this year is to get more wins — "Quarterbacks are judged on wins and three wins around here as a quarterback is not acceptable," he said — and to become more of a leader.
Montgomery also wants to see more consistency, and thinks he will.
"He had a good year last year as a freshman but in certain games he still played like a freshman and that's going to happen," he said.
Hess's progression extends to interviews, where he seems more confident and more willing to banter with reporters. Considering he gets interviewed a few times a week during the season, that's no small thing.
"I'm still learning the position and it's an art to me right now," he said. "It's fun."
More like this from vindy.com