St. Christine's students celebrate Chinese New Year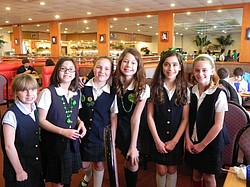 Photo
Feeling a little full after enjoying the buffet, Grace Taylor (left), Hadley Spielvogel, Cameryn Olesh, Lindsay Bell, Adriana Parella,and Gia Di Fabio decided to get up, stretch their legs, and let some of their food settle.

Photo
Anson Hankey enjoyed some chicken fingers at the Super 8 buffet to celebrate Chinese New Year.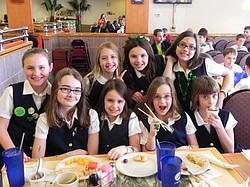 Photo
Neighbors | Sarah Foor.A group of fourth-grade girls of St. Christine School were very excited with their March 17 Chinese New Year celebrations. Finishing their meal were, from left, Cameryn Olesh (front), Callie Koval, Aleah Marie Malleske, Anna Mshar, Savannah Cocher, and Elizabeth Maro (back), Olivia Batton, and Hadley Speilvogel.
By SARAH FOOR
The fourth-graders at St. Christine School celebrated the New Year with a big party, but the shindig didn't happen on Jan. 1.
Instead, the students of Cynthia Ricci and Karen Joseph celebrated Chinese New Year on March 17 with a meal at the Super Buffet 8 in Boardman.
The students' meal was the celebratory end of a social studies unit on Chinese culture and tradition. Ricci and Joseph taught their students about the food and clothing of the country, and explored what a Chinese student in fourth-grade might be learning.
Student Kenny Goss invited his grandparents to the school and they shared their experiences as missionaries in China with the classrooms.
The meal offered a chance for the students to explore Chinese culture by food. Some foods and customs were new to the students, but many tried their hand at using chopsticks and sampled fish and noodle dishes they had never had before.
Juan Gomez took a chance on a sushi roll.
"Is this your first time trying sushi?" Joseph asked Gomez. "What did you think?"
"It is my first time. It was really good. I'll definitely try it again," Gomez told his teacher.
During the celebrations, student Nhat Tran was given the chance to share with his classmates how Chinese New Year is also celebrated in Vietnam, where he was born.
"I like celebrating with my family during Chinese New Year — we eat dinner together and then eat fruit," Tran explained. "I know that we celebrate it to honor the traditions of our country from many, many years ago."
Even though the celebration happened in Ohio, Joseph and Ricci hope the lessons on the holiday helped the students think global.
"We want the kids to know there is a big world out there. We hope they think more about all the different people in the world," Ricci said.
More like this from vindy.com