For four days, Youngstown is 'circus town'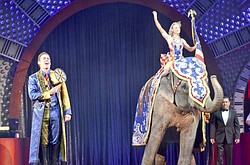 The Vindicator (Youngstown)

Photo
Brian Crawford Scott, ringmaster for Ringling Bros. and Barnum & Bailey Circus, sings the national anthem and welcomes the audience to the "Fully Charged" show at the Covelli Center Friday night.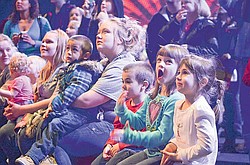 The Vindicator (Youngstown)

Photo
Travis Mills (red), 4, of Canfield, Caiden Smith (blue), 6, of Austintown, and DeeAnna Mills (white), 6, of Canfield, watch a pre-show perfomance Friday night at the Covelli Center.
YOUNGSTOWN
"Youngstown is definitely a circus town," Clair Ballard said Friday.
You better believe it.
She is in event marketing and sales management for the Ringling Bros. and Barnum & Bailey Circus.
The circus presented its new show, "Fully Charged," at the Covelli Centre that will run through Monday night.
The opening-night crowd Friday was nearly a full house.
"On March 1, everyone thinks about Youngstown," Ballard said.
Meanwhile in the audience, Shawna Oller and her husband, Heath of Lisbon brought their daughter, Brogan, 10, and son, Bryce, 9.
"The family goes to the circus," she said.
She added, "The kids read stories about the circus all the time."
Speaking at a preview as the circus began to get rolling, Shawna said, "The kids are so excited."
Melissa Herrin and her husband, Eric, of Hubbard have come to the circus two years in a row. Their daughter, Olivia, is 4 and was curious about the elephants and their families.
Charity Mendenhall was at the circus with her children, Cheyenne, 9, and Trevor, 5.
Trevor asked the question all the children asked, "When does the elephant come out?"
The elephant finally appeared and a trainer explained how the circus has its own facility for maintaining, training and caring for its elephants, each of which weigh 8,000 pounds.
In return, the elephant used its trunk to grasp a brush to paint an abstract work.
Joy Boston is one of the many entertainers in the truly three-ring circus.
She wondered when she was 15 what it would be like to be an entertainer, and tried to get a job with Barnum & Bailey. She didn't get it.
A few years, later, she received a call from the circus, which offered her a job.
She now wears a red dress with lots of sparkles as do many of the female performers in the circus, commonly known as "The Greatest Show on Earth."
Is she going to stay in the circus?
"As long as I can. It's a really physical job," she said.
The circus has changed in many ways. Children asked for pop and a bystander noticed the drink was glowing. The parents explained that the glow was coming from the plastic cup.
The circus continues today and Sunday with shows at 11 a.m., 3 p.m. and 7 p.m. each day. The "GreatestShow" ends its Youngstown run with a 7 p.m. performance Monday.
Seats are still available.