Cardello takes fourth at Grade School state tourney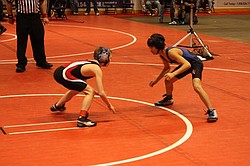 Photo
Neighbors | Submitted.Matt Cardello (right) looks for an open shot against his opponent during last weekend's OAC Grade School state wrestling tournament at the Covelli Centre. Cardello, from Poland, took fourth in his weight class.
Poland's Matt Cardello placed fourth at the OAC (Ohio Athletic Conference) state championships last weekend at the Covelli Centre.
He wrestled for Team Miron, a nationally-ranked wrestling team based out of Columbus. Team Miron won the team award with over 500 points, almost double the team runner-up.
Approximately 2,400 wrestlers competed in their respective district finals for 1,200 state positions. Those wrestlers then battled for the final 328 spots and the right to be named All-Ohio. On Sunday, 41 champions were crowned.
Cardello won three matches to earn a spot in the championship semifinals, where he lost 4-3 to Jordan Crace of Worthington. He rallied in the consolations to beat Troy Christian's Cory Collins 4-2 to earn a spot in the third-place match, where he lost 7-0 to Brandon Lucas.
Cardello's OAC All-Ohio honor is his second all-state performance this season. In February, he took sixth at the OYWA state tournament. He wrestled for Poland this season and is the second youth wrestler from Poland to place at the OYWA tournament.
Cardello is in his third season of wrestling. During the regular season for Poland, he was undefeated and had zero points scored on him. He was also the highest placing wrestler form Poland at the OAC state tournament.
"This was our first time hosting both events in the Mahoning Valley and everything went extremely well. Everyone went out of their way to ensure the tourney's success but in the end, it was the wrestlers who stole the show," Jared Opfer, OAC business development director said.
More like this from vindy.com