Tokyo House is one of Youngstown's best-kept secrets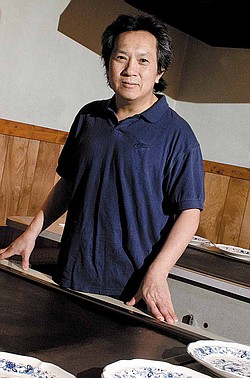 Photo
Can Dao, owner of the Tokyo House restaurant on South Avenue, Youngstown, prepares a meal for patrons. Customers said the food is so good that they'll wait several hours to eat the Asian cuisine. For 20 years, Dao and his wife, Hin, have owned and operated the restaurant.
By CHRISTOPHER COTELESSE
TheNewsOutlet.org
YOUNGSTOWN
It's a cold Wednesday in a worn parking lot on Youngstown's South Side, and several groups of people sit patiently in their cars.
Some people sit for up to two hours.
The groups occasionally eye one another from behind the windows of their vehicles, waiting for someone to make the first move.
Someone does.
A car door swings open, and it means everyone else will do the same.
They line up at the door of a dilapidated building that once was a gas station. The line on this day eventually will snake along the side of the 1907 South Ave. building that sits just a stone's throw south of Interstate 680.
Inside is one of Youngstown's most successful, yet best-kept, dining secrets — the Tokyo House restaurant.
People endure cold weather and two-hour waits for plum wine and teriyaki chicken prepared on a searing hibachi by Can Dao, who has owned Tokyo House for about 20 years with his wife, Hin.
Five days a week, the Vietnamese proprietors serve Japanese food on plates made in Korea. Among their ultra-loyal customers is Bryan Fullerton, who has been going to Tokyo House for about 12 years. He goes there as often as he can, but tries to get there at least once a month.
"It's always an awesome experience when you go," he said.
He and his friend Zach Hertel created a Facebook fan page, Can's Tokyo House, more than a year ago, and watched it grow immediately. It has about 1,500 members and is about the only way to stay abreast of the restaurant.
It has no website of its own. Its listed telephone number is disconnected. The only way to connect to the Tokya House is through Facebook and its fan base — as evidenced by its recent closure.
For several months, the restaurant was closed as it tended to code issues with the city. When it reopened Jan. 10, it was posted on Facebook and lines that first Monday were instant.
No phone and no web page is consistent with many aspects of the place.
It starts with the pot-holed parking lot and extremely dated exterior. It continues inside with well-worn bench seats cut into the floor and covered by plain berber carpet. Just a few simple pictures hang on the mostly bare walls.
Even the cash register is low-key, and they don't accept credit cards. The only two employees are Can and Hin.
And that is where part of the appeal starts. Customers will say that the food is one key thing about the place. But they quickly will point to Can as the other.
Officially, he's quiet and discreet, which includes declining in-depth interviews.
"I don't want to be famous. I just want to live," he said.
But from 4 to 8 p.m. Mondays through Fridays, he's on stage behind his grills. He combines jokes and theatrics for a night of entertainment — flirting with pretty girls and creating fireballs on the grill that reach to the edge of the overhead fan. And people keep coming back.
"I have a good time with everyone here," Can said.
"He makes it," said customer Tim Morrow. He's been frequenting Tokyo House about once a month for five years.
"It's kind of like a tradition," he said. "It's just a great place to be and you meet a bunch of people that are crazy enough to stand outside with you."
Often people will wait two to three hours before taking a seat, and then they wait longer while Can, the only cook, and Hin, the only server, make their way around to the six tables that each seat eight people.
Because Can doesn't take reservations, many patrons choose to brave the cold and wait sooner rather than later, arriving shortly before the doors open.
"If you don't, you're going to be waiting for three hours or so. So it's best to get here early," Morrow said. "It's just that good."
Debbie Dibacco agrees.
"The food is incredible. The portions are great. It's one of my favorite places," she said. She added that another appeal is $6.95 for a meal she can eat for two days.
Dibacco said Can is an integral part of the experience, praising his ability to remember the names and occupations of his customers.
"He makes everybody feel welcome," she said. She has eaten at Tokyo House regularly for almost 20 years, and plans to do so as long as the doors are open. And she'll wait outside as long as she has to, she said.
"If I was coming here, I wouldn't leave until I ate," she said.
The NewsOutlet is a joint media venture by student and professional journalists and is a collaboration of Youngstown State University, WYSU radio and The Vindicator.