No. 1 Buckeyes have history on their side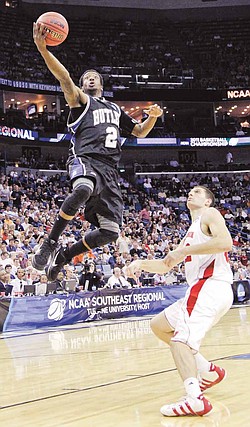 ASSOCIATED PRESS

Photo
Butler's Shawn Vanzant (2) shoots in front of Wisconsin's Keaton Nankivil during the first half of the NCAA Southeast regional college basketball semifinal game Thursday, March 24, 2011, in New Orleans. (AP Photo/David J. Phillip)
Associated Press
Newark, N.J.
Kentucky prides itself on its history, and rightfully so. The Wildcats have done just about everything there is to do in college basketball.
Whether you're talking about their 51 NCAA tournament appearances, 13 Final Fours or seven national championships, few programs rival the bluebloods from the Bluegrass State.
One thing they've never done, though, is beat Ohio State when it counts.
"No one told me that," freshman guard Brandon Knight said, upon learning his Wildcats will be trying to end a 0-for-5 NCAA tournament drought against the top-seeded Buckeyes in the East regional semifinals tonight.
"You're the first person to tell me that," Knight said. "I mean, there's a lot of things that haven't been done, but some crazy things happen in the tournament. I know Ohio State has a lot of great players, but that stat doesn't really mean that much to me."
Not a single player on their roster was even alive the last time these two teams met in the tournament, when Eddie Sutton's bunch lost in the first round in 1987. Even current coach John Calipari was just a youngster the time before that, when Dave Sorenson's jumper in the final seconds lifted the Buckeyes to an 82-81 victory and into the 1968 Final Four.
The Wildcats also lost to Ohio State in 1945, and again in 1961 and '62. In fact, the only program to beat them more times in the NCAA tournament is Marquette, which coincidentally plays North Carolina in the other regional semifinal at the Prudential Center.
Talk about a rough path to the Final Four in Houston.
"As we told our guys, every round you in advance in the NCAA tournament, your opponent gets tougher," Ohio State coach Thad Matta said. "It is definitely the case here."
Although they have youthful exuberance on their side, the veteran Buckeyes counter with sagely wisdom. If they choose to run up and down the floor, Ohio State will slow down into a half-court offense and dump the ball inside to 6-foot-9 freshman Jared Sullinger, who is good for a double-double just about every time he steps on the floor.
Lighty is all that's left from the so-called "Thad Five" — the recruiting class of Greg Oden, Mike Conley Jr., Daequan Cook and Othello Hunter that is long gone. But his experience, along with that of fellow seniors Jon Diebler and Dallas Lauderdale, is a big reason why Ohio State has been so successful this season.
And a big reason Ohio State is favored to win it all.
"At this point, it's just two teams going at each other," Calipari said. "None of that matters in this stuff, and that's why an inexperienced team like mine, it's hard to predict how they're going to come out and do with the lights like they are."
More like this from vindy.com