Humane society to host spring fundraiser April 2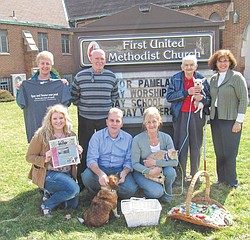 Photo
A pet blessing service will take place during the "Hop Into Spring Vendor Blender" to be sponsored by the Humane Society of Columbiana County as a benefit for abused and neglected pets. Items to be featured at the event and some of the adoptable pets are displayed by in front, from left , Amanda Lynch, editor of Impact for Animals; Ryan Hillman and Jacki Hersman, owners of Steel Trolley Diner, and in back, Dessie Bates, of Tastefully Simple; "Doc" Roberts, photographer with Posing with Pets; Lucille Smith, HSCC senior volunteer; and the Rev. Pam Gable, pastor of the First United Methodist Church.
LISBON
The Humane Society of Columbiana County will sponsor a "Hop Into Spring Vendor Blender" as a fundraiser from 10 a.m. to 4 p.m. April 2 at the First United Methodist Church, 114 W. Washington St.
Approximately 14 home-based businesses and vendors of handmade products will be participating in the event.
A highlight of the day will be a pet blessing service to be officiated by the Rev. Pam Gable at 11 a.m. in the outdoor pavilion. All pets must be on a leash or in a carrier.
Those attending the fundraiser will have an opportunity to have pictures of their children and their pets taken with Honey the Easter Bunny by "Doc" Roberts of Posing with Pets Photography from 10 a.m. to 3 p.m. Sitting fees start at $10, and a portion of the profits will be donated to HSCC.
The Steel Trolley Diner will provide the "Spud Bar Plus," where patrons can purchase lunch from 11 a.m. to 2 p.m.
There will be a sale of HSCC pet products and T-shirts, a bake sale and a basket raffle. Participating vendors include Tastefully Simple and Pampered Chef, Scentsy, Calypso Collars, Cookie Lee Jewelry, Premier Designs Jewelry, Stampin' Up, Creative Memories, Tupperware, Pammer's Petwear, Flying Bassett Organics, 31Etc, Avon, Gourmet Apples by Laura, Impact for Animals, Mary Kay Cosmetics, Beaver Creek Candle Co. and the Guilford Lake House Vacation Raffle.
Proceeds from the activities will be used by the society to support the services it provides throughout the county and to benefit abused and neglected pets in the care of the society. For more information call HSCC at 330-332-2600 or Jenny Pike, co-chairwoman, at 330-420-5397.
More like this from vindy.com