Elite again: Howard, Butler top Wisconsin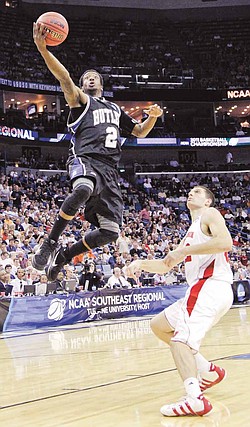 ASSOCIATED PRESS

Photo
Butler's Shawn Vanzant (2) shoots in front of Wisconsin's Keaton Nankivil during the first half of the NCAA Southeast regional college basketball semifinal game Thursday, March 24, 2011, in New Orleans. (AP Photo/David J. Phillip)
Associated Press
New Orleans
Wisconsin's normally suffocating defense could not slow Matt Howard and Butler's run toward a second straight Final Four appearance. If anything, the Bulldogs may be gaining momentum.
After narrowly surviving its first two NCAA tournament games by margins of two points or less, Butler led by 20 points before holding on for a 61-54 victory over the Badgers on Thursday night.
Howard had 20 points and 12 rebounds, Shelvin Mack scored 13 points and Shawn Vanzant 10 for the eighth-seeded Bulldogs (26-9), who upset top-seeded Pittsburgh by one point in the second round and now have knocked off another higher seed in fourth-seeded Wisconsin.
The victory sent Butler into the Southeast regional final, where the Bulldogs meet second-seeded Florida (29-7) Saturday for a trip to the Final Four.
Jordan Taylor scored 22 for Wisconsin (25-9), which shot 30.4 percent (17 of 56). Jon Leuer, normally one of the Badgers' top offensive forces with 18.7 points per game coming in, was 1 of 12 shooting and finished with three points.
Butler was the aggressor from the outset, using quickness and heady play to counter Wisconsin's size advantage. The Bulldogs took a 6-5 lead on Vanzant's 3 from the corner and never trailed again in the first half.
While the Bulldogs shot 50 percent (12 of 24) in the opening 20 minutes, their defense was equally impressive. Wisconsin came in averaging only 7.5 turnovers per game, but had eight in the first half alone. Taylor, who entered the contest with a nation's best 4.18 assist to turnover ration, had one assist and two turnovers to that point.
The Badgers also had trouble shooting, missing 15 of their first 23 shots.
More like this from vindy.com