---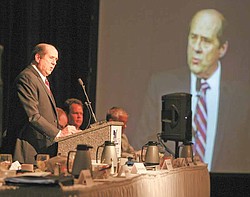 Photo
Tom Humphries, president and CEO of the Youngstown/Warren Regional Chamber, speaks at the chamber's annual meeting and luncheon. The meeting was Thursday at Mr. Anthony's Banquet Center in Boardman. Ron Insana, CNBC senior analyst and commentator and host of the syndicated radio program "The Insana Quotient," was the keynote speaker.
Boardman
Although many hard-hit areas still are struggling with the aftermath of the recession, CNBC personality Ron Insana thinks there is reason for optimism.
Insana, who also hosts the syndicated radio show "The Insana Quotient," spoke Wednesday at Youngstown/Warren Regional Chamber's annual meeting and luncheon at Mr. Anthony's Banquet Center, 7440 South Ave.
Insana spoke in place of Ed Schultz, host of MSNBC's "The Ed Show" and the syndicated radio program "The Ed Schultz Show." Schultz canceled his appearance because of scheduling conflicts.
Insana said the retail, auto and banking industries have rebounded substantially, and U.S. gross domestic product is growing at a 4.4 percent annual rate.
"In '08 and '09 ... we all thought the world was on the brink of economic collapse," Insana said.
He credits the Federal Reserve for orchestrating what he said is a strong, solid recovery.
Insana began his career with CNBC in the early 1980s and covered the 1987 stock-market crash from Chicago.
Insana said he has visited more than 100 U.S. cities in the past five years.
"No doubt we have experienced in the last three to four years one of the most-savage markets," he said. "Recent events hammered Main Street in ways I had not ever seen in my professional life."
Insana said lack of risk management and oversight were major factors in the economic downturn.
But between banks' conducting risky business, regulators' ignoring the warning signs and consumers' borrowing more than they could afford, the blame easily can be spread around, he said.
Before Insana spoke, a chamber video showed information on the Mahoning Valley's economy and the chamber's role in its recovery.
It cited projects such as V&M Star's $650 million expansion, which is bringing 400 construction jobs and 350 full-time positions to Youngstown, and TMK Ipsco's $10 million steel- tubing plant that brought 120 new jobs to Brookfield, among others.
The video also highlighted the chamber's international efforts to boost the regional economy, including a networking trip to Israel and a memorandum of understanding issued between the chamber and Shandong Province's China Council for the Promotion of International Trade.
The five-year agreement set up an economic exchange between the two regions.
"There is a lot of attention on international, and there should be," said Tom Humphries, president and CEO of the Regional Chamber. In total, Humphries said the chamber helped bring 1,209 new jobs and helped retain 1,499 jobs in the region in 2010.