5 more in gang case go to court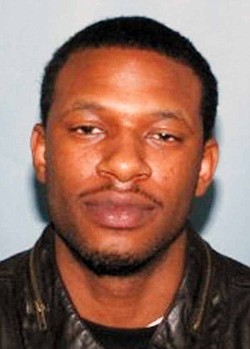 Photo
YOUNGSTOWN
One man indicted on charges related to a criminal gang enterprise on the city's South Side was arraigned before a federal judge, while four other men under the same indictment went before the judge asking to be released from jail on bond.
All five men are part of a 42-count federal indictment filed in U.S. District Court for the Northern District of Ohio, targeting members and associates of the LSP Street Gang.
The 23 people in the indictment face many charges, including carrying illegal firearms and theft, but U.S. Bureau of Alcohol, Tobacco, Firearms and Explosives agents say the crimes will fall under the Racketeer Influenced and Corrupt Organizations Act statute.
Several other people face state charges related to the same alleged gang activity.
Michael Jones, 26, no address given, has been wanted by federal agents since the indictment was handed down last week, but, through his attorney Ron Yarwood, surrendered to police Wednesday. He was arraigned Thursday before Judge George Limbert in the Thomas Lambros Federal Building and U.S. Courthouse.
Jones is indicted on several counts in the indictment, including participating in gang activity, distribution of cocaine, unlawful possession of a firearm and distribution of crack cocaine. Federal prosecutors have asked the court to hold Jones without bond until his trial date. A hearing to determine whether he'll be released or held with or without bond has been set for April 4.
Tre'von Mason, no age or address given, appeared before the court with his attorney, J. Gerald Ingram, but waived his right to have such a hearing. He will be held in federal custody until a trial date is set.
James Neail, 27, of Youngstown, is being charged under the RICO act and specifically faces a charge related to drug distribution. Neail, who was released from prison this month after serving 18 months on state charges related to guns and drugs, appeared before Judge Limbert with his attorney Jaime Serra, asking that he be released to his mother pending trial.
Neail is facing charges of drug distribution in the indictment.
Mabel Neail, James Neail's mother, told the court she is suffering from cancer and needs her son's assistance with daily functions. She assured the court he would make all court appearances and said her son is in line to get a job at a local KFC restaurant.
"He does a lot for me. A lot of things I can't do for myself," she said.
Robert Corts, attorney with the U.S. Attorney's Office, reminded the court that Mabel Neail was able to find others to help her function properly while her son was in state custody for 18 months. He also had Mabel Neail admit she does not know all her son's actions to guarantee he will not break the law while out on bond.
Judge Limbert ordered Neail held in federal custody pending trial. The judge cited Neail's previous criminal history in saying that Neail is a danger to society and a flight risk.
Edward Campbell III, 20, of Youngstown, facing charges that include cocaine distribution, appeared before the court with his attorney, Nathan Ray. Campbell, through his attorney, asked the court to be released on bond, saying he is not a flight risk and would be staying with his grandmother far from the alleged LSP territory, if released.
Ray said his client was planning to attend Youngstown State University and volunteers regularly at a local youth center.
Dan Riedl, an attorney with the U.S. Attorney's Office, told the court that Campbell has two prior convictions for receiving stolen property as a juvenile and is a flight risk.
Judge Limbert ordered Campbell held without bail pending trial, citing a confession by Campbell to smoking and selling marijuana and a failure to appear on a previous charge.
Marquese Duvall, 23, of Youngstown, facing charges related to preparing and selling marijuana, appeared before the court with his attorney, Vicki Ward. Duvall was granted a bond, but with strict conditions.
Duvall, in order to be released from jail, must post $20,000, agree not to break the law or leave Northeast Ohio, enroll in education classes, avoid all contact with others indicted as members of the LSP gang and be monitored by a GPS device.
More like this from vindy.com