Project Jamail donates collection to deserving students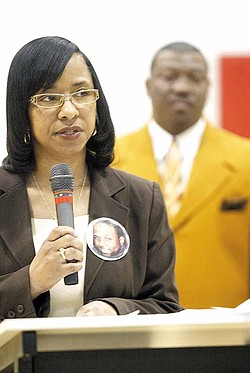 The Vindicator (Youngstown)

Photo
Shirlene Hill, Johnson's mother, spoke to the students about remembering to help others, just like her son. In the background is her husband, Sidney Hill.
The Vindicator (Youngstown)

Photo
Jerome Harrell, left, principal of Wilson Middle School, Youngstown, presents a pair of shoes to eighth-grader Jonathon Flores. The shoes were presented Wednesday to several students by the family members of Jamail Johnson, who was killed Feb. 6 at a shooting a home near Youngstown State University. Johnson, 25, a YSU student had served as a mentor at the school.
By Denise Dick
YOUNGSTOWN
The family of a Youngstown State University student killed last month at an off-campus party is keeping his memory and spirit of giving back alive.
Jamail Johnson, who was to graduate from YSU this spring, was shot and killed Feb. 6, while ushering others away from the gunfire. Johnson, who worked at Foot Locker, tutored students at Woodrow Wilson Middle School in reading and math in his spare time.
After his death, Johnson's family — his mother and step-father, Shirlene and Sidney Hill, and brothers, Bruce Alexander and Sidney Hill Jr. — established Project Jamail, a program to donate the late mentor's collection of more than 100 athletic shoes to Wilson students.
"I know it's something that Jamail would have wanted," said his mother, of Liberty. "I always raised Jamail that when you're able to give back, to give back. Don't forget where you came from."
To be eligible for the shoes, students have to demonstrate improvement in attitude, grades and behavior, said Dan Smith,
behavior-intervention coordinator at the school.
Recipients also must be known as peacemakers, exemplify leadership and show respect to staff, students and self, Hill said.
Five students will be chosen from those who meet the criteria each month to receive the shoes.
Wednesday marked the first giveaway, and Principal Jerome Harrell called it a special day.
Eighth-graders Braylin Smith, Dominic Hoffman, Kenneth Cunningham, Joseph Dawson and Jonathan Flores earned the shoes.
Dominic, 15, said he picked his pair because of the color. Kenneth, 15, picked a pair of Jordans from Johnson's collection.
"I've never had a pair of these in my life," Kenneth said.
He said those who received Johnson's shoes had to be role models for other students.
Joseph, 14, said they also had to be leaders. Joseph was one of the students who Johnson tutored in math and said Johnson helped him understand some math concepts with which he had struggled.
Receiving a pair of his tutor's shoes means a lot,
Joseph said.
Jonathan, 15, said it feels good to know that he did something well.
U.S. Rep. Tim Ryan of Niles, D-17, attended Wednesday morning's ceremony and told the students that they have an obligation to help keep Johnson's spirit alive.
"You are capable of great things, and this community expects you to do great things," Ryan said.
Hill said she plans to maintain the relationship with the school that her son started, volunteering and helping out when she's not working.
"It takes a community to raise a child, and we forget that," she said. "It's not just one person, it's the whole community. I think when we took prayer out of schools, we did a disservice to our children."
Hill learned after her son's death about the impact that he had on many students at Wilson. It didn't surprise her, though.
"That's how Jamail was raised," she said.