Poll: Many Ohioans disapprove of Kasich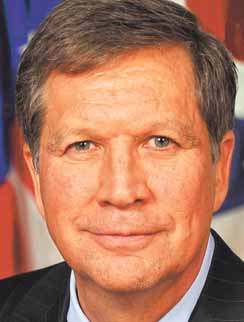 Photo
By Marc Kovac
COLUMBUS
The percentage of Ohioans disapproving of Gov. John Kasich has more than doubled since he took office in January, according to a new poll released by the Quinnipiac University Polling Institute.
That compares with an approval rating increase for Gov. Ted Strickland during his first months in office in 2007, when he offered his first two-year spending plan.
In a survey conducted over the past week, 46 percent of respondents disapproved of how Kasich is handling his job as governor, up from 22 percent polled in January.
Thirty percent approved of Kasich's work in office during both polls.
Additionally, 53 percent believe Kasich's $55.5 billion biennial budget proposal is unfair. And about half opposed changes in state law that would limit collective bargaining for public workers.
"Gov. John Kasich has gotten off to a rocky start with Ohio voters, perhaps not surprising given the size of the cuts in public services and state spending that he has proposed," Peter A. Brown, assistant director of the Quinnipiac University Polling institute, said in a prepared statement. "Although there is almost nothing in these numbers that Kasich can point to as evidence of his popularity or that of his proposals, he can take solace from the fact that he has almost four years to turn around public opinion."
Quinnipiac respondents gave Strickland a 45 percent approval rating in February 2007, shortly after he took office for his first and only term.
By March 21, after Strickland offered his first executive budget proposal, his approval rating rose to 53 percent. About 12 percent of those surveyed at the time disapproved of how Strickland handled the job for both polls.
Rob Nichols, a spokesman for Kasich, said the governor is not concerning himself with poll results.
"His focus is on doing what's right to fix the state, not on public-opinion polls," he said.
Connecticut-based Quinnipiac regularly gauges Ohioans' opinions of politicians and issues. Over the past week, it surveyed 1,384 registered voters on Kasich and his policy proposals. The results have a margin of error of 2.6 percent.
Among the results: Quinnipiac posed the union question differently to half of those surveyed.
In both cases, though, more respondents voiced opposition to legislation that would limit collective bargaining and ban strikes among public workers.
Forty-eight percent opposed the bill when asked about "collective bargaining," while 54 percent opposed it when asked about "collective-bargaining rights." That compares with 41 percent and 35 percent, respectively, who supported the legislation.
"Whether collective bargaining is a right or not is in the eye of the beholder, but the word 'right' appears to have an effect on the voters' response," Brown said. "But no matter how the question is asked, voters oppose limits on collective bargaining."
More like this from vindy.com