Northland star receives Mr. Basketball Award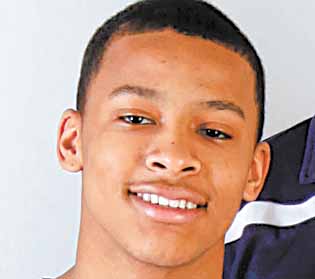 Photo
ASSOCIATED PRESS
In this photo taken March 21, 2011, Trey Burke from Northland High School is shown in Columbus, Ohio. Burke was named Ohio's Mr. Basketball by the Associated Press in Wednesday, March 23, 2011.
Associated Press
COLUMBUS
Besides being a great scorer, team leader, big winner and the 2011 Associated Press Mr. Basketball award winner, Columbus Northland's Trey Burke is one courageous young man.
A University of Michigan signee, the 6-foot-1 point guard wears his maize and blue everywhere around Ohio's capital city. Needless to say, some people take umbrage at a Michigan fan in the heart of Ohio State country.
"They try to give me a hard time here when I go to the store or to the barbershop or something like that," Burke said with a laugh. "But I know it's all love at the end of the day. I'm going to have a lot of support from a lot of family and friends when I go there."
Burke makes it three in a row for Northland, with current Ohio State big man Jared Sullinger winning the Mr. Basketball award the past two seasons. It's the first time that any high school has produced more than one Mr. Basketball.
Sullinger's dad, Satch Sullinger, is also Burke's coach. He says that players prosper in an environment where they are permitted some freedom to play the way they like to play.
"We coach a style of basketball that is for the next level," said Satch Sullinger, whose Vikings (25-1) meet Garfield Heights (22-1) in a Division I state semifinal showdown on Friday night at Value City Arena.
Burke, selected as the 24th annual winner of the Mr. Basketball award in balloting by a state media panel, averaged 23.9 points, 6.6 assists, 2.9 rebounds and 2.2 steals in the regular season while shooting 61 percent from the field, including 48 percent from 3-point range (39 of 81).
Jared Sullinger is one of his best friends. He jokes that he might just have to pick off Burke with an elbow if the two meet on a Big Ten court next season — should Sullinger elect to return next season to Ohio State rather than jump to the NBA.
"He's like a big brother to me," Burke said of the 6-9 Sullinger, who won the Mr. Basketball award in both 2009 and 2010.
Others considered for the award included Travis Trice II of Huber Heights Wayne, Brunswick's Pat Forsythe, Trey Lewis of Garfield Heights and Jalen Ragland of Chillicothe.
More like this from vindy.com