Charged up Circus ringmaster is in the middle of the action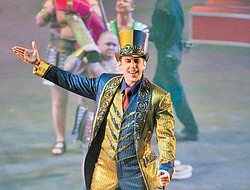 Photo
Ringmaster Brian Crawford Scott
IF YOU GO:
What: The Ringling Bros. and Barnum & Bailey's 141st edition "Fully Charged"
When: 7 p.m. Friday; 11 a.m., and
3 and 7 p.m. Saturday; and 11 a.m. and 3 and 7 p.m. Sunday.
Where: Covelli Centre,
229 E. Front St., Youngstown
Tickets: $12, $17, $35 and $70 at the box office
By John Benson
When Brian Crawford Scott arrived in New York City just over a year ago, the aspiring singer-actor believed musical theater was his future. The closest he figured he'd come to joining a circus was getting a role in perhaps a revival of Broadway musical "Barnum," which is based on the life of showman P.T. Barnum.
Now the 24-year-old San Jose, Calif., native finds himself carrying on in the footsteps of the legendary circus man as the ringmaster in The Ringling Bros. and Barnum & Bailey's 141st edition "Fully Charged," which makes its Youngstown debut this weekend at Covelli Centre.
"Before I joined the circus, I never actually saw a circus," said Scott, calling from Long Island, N.Y. "My parents just never took me. It wasn't something we ever thought to do. It was still pretty far off my radar because I was living in New York City planning on doing musical theater, but then a friend of mine told me about this audition for the next ringmaster for Ringling. I was a little hesitant at first because I didn't know anything about the circus, but once I learned what it was to be a ringmaster and what the opportunity was, I knew it was exactly what I wanted to do."
Scott said the audition process, which was very similar to the dozens of other tryouts he attended, was fairly quick. In fact, his callback was literally the same day in front of the entire circus creative team. That's when the performer knew he was close to achieving for what many is considered a dream-come-true gig. Soon, he'd realize, too, that ringmaster was indeed the role of a lifetime.
"I'm really excited about it because it's not exactly a normal theater gig," Scott said. "It's very much its own vocation, being a ringmaster and working in the circus. But this is by far the biggest thing, the biggest project I ever worked on. The opportunity to travel the country and to do what I love to do — perform and work with these amazing athletes from all over the world — is once in a lifetime, and I didn't want to pass that up."
In many ways, Scott fits the quintessential image of a ringmaster: tall, lively and a big baritone voice. Considering his youthfulness and enthusiasm, it doesn't seem to be a coincidence he's attached to the "Fully Charged" show, which features the usual cast of clowns and performers, as well as dynamic animal trainer Tabayara, Ukrainian strongman duo Dmitry Nadolinkskiy and Ruslan Gilmulin and The Fearless Fernandez Brothers' Twin Turbines of Steel.
"This show is all about energy," Scott said. "The energy people bring, the energy and power of our performers exciting the crowd and the crowd's energy for being excited coming back to the performers to create this really amazing, electrifying show. It's perfect for me because I'm a young ringmaster. I'm the third-youngest ringmaster, and so I have a bit of a youthful energy about me that gets excited and is really useful in the show."
He added, "I'd say the most exciting thing is our Human Fuse, Mr. Brian Miser. What he does is loads himself into a giant crossbow, lights himself on fire and launches the length of the arena. It's really an amazing thing to witness."
Perhaps it won't be too long before Scott finds himself expanding his role to include death-defying feats?
"I think I've got some time," Scott said, laughing. "The human-cannonball trade is very jealously guarded. They're not quick to give up their secrets."