Red Wanting Blue's magnificent miles on film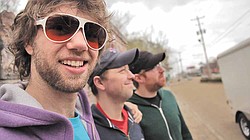 Photo
Red Wanting Blue members are, from left, Dean Anshutz (of Youngstown), Mark McCullough and Greg Rahm.

Photo
Red Wanting Blue members load up their gear after a show in a scene from the fi lm "These Magnifi cent Miles."
IF YOU GO:
What: Red Wanting Blue
When: 11 p.m. Friday
Where: Cedars Lounge, 23 N. Hazel St., Youngstown
Info: 330-743-6560
By GUY D'ASTOLFO
You'd think that when somebody finally got around to making a film about Red Wanting Blue, the Columbus-based band that has been touring nonstop for 13 years, it would be another Buckeye Stater, or perhaps a long-time fan who has watched these road warriors log a zillion miles in their minibus, releasing record after record without the support of a record label.
But it was noted Broadway producer Ken Davenport who did it.
How did that happen?
It started when Davenport reluctantly allowed himself to get dragged to a RWB show in New York City one night.
He didn't want to go at first, but he came away so impressed by the band's talent, devoted fans and — most of all — it's do-it-yourself, never-give-up attitude, that he decided to document it.
The result is "These Magnificent Miles," a 60-minute film that was released this month.
In his director's statement, Davenport recounts that night in New York.
"About five years ago, after a performance of one of my Off-Broadway shows, one of my cast members rushed up to me and said, 'Ken! You have to come out with us tonight! We're going to hear my boyfriend's band.'
"I offered her $100 cash to not go. Having lived in New York City for almost 20 years, I had had my fill of listening to up-and-coming rock stars, comedians and performance artists who paint pictures of chimpanzees using guava juice. I wasn't paying a $10 cover charge to stand in a dingy East Village club and listen to 'emerging talents' anymore. I was not going.
"She smiled, looked me dead in the eye and said, 'Trust me. You'll like them.'
"She was wrong. I loved them."
The cast member was Youngstown native Jenna Pace, who is RWB frontman Scott Terry's girlfriend.
Davenport was blown away by what he heard in the club that night, and also surprised by the RWB's relative anonymity.
"I wasn't expecting the level of talent I heard," said Davenport in an interview with The Vindicator. "I've heard a lot of bands in my day, and No. 1, their songs were incredible. They sounded like something I should hear on the radio. And I thought, 'Why haven't I heard more about these guys? Why are they playing a dingy little club downtown?'
"They blew the roof off the joint. And then after saying goodbye, I watched them pack up all their stuff themselves. They were doing it all themselves."
Red Wanting Blue — who will make one of their frequent Youngstown stops Friday at Cedars — prove a unique and deserving topic in Davenport's 60-minute documentary film.
Being a theater producer and writer, Davenport first wanted to adapt the band's story to the stage.
A force on Broadway, Davenport's recent productions include "Oleanna," "Speed-the-Plow," "Will Ferrell: You're Welcome America," "Blithe Spirit" (starring Angela Lansbury) and "13." He is the only independent producer to have had three shows running simultaneously Off-Broadway: "Altar Boyz," "The Awesome 80s Prom" and "My First Time."
"First, I talked to [band leader Scott Terry] about doing a musical about a hard-working band like his," said Davenport. "But then I thought the best way is to show their story live. The best medium is film." For two years, Davenport and a cameraman intermittently followed RWB on the road to make "These Magnificent Miles."
It's the first film Davenport has made.
He followed the band on the road, to their homes and to their day jobs, painting a vivid picture of their lives on and off the stage. He intersperses interviews with each band member (including drummer Dean Anshutz of Youngstown), as well as with family members, girlfriends and fans.
He also interviews members of O.A.R., the Columbus rock band that started out with RWB but managed to hit it big.
The film culminates with the band finally signing a recording contract — a brief and anti-climactic affair on the patio of the label exec's house.
"These Magnificent Miles" can be purchased at redwantingbluemovie.com. Davenport wants to get the film into the hands of fans as soon as possible, but he also plans to enter it in film festivals.
As for Red Wanting Blue, the band still is maintaining its heavy tour schedule while recording songs for its next album.