Bonds' childhood friend testifies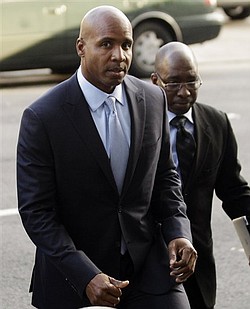 AP

Photo
Barry Bonds arrives at the federal courthouse for the second day of his trial in San Francisco, Tuesday, March 22, 2011. Now that a jury has been selected, the prosecutors and the slugger's lawyers are scheduled to deliver opening statements.
Associated Press
SAN FRANCISCO
Barry Bonds looked at the witness stand with a blank expression as a childhood friend and former business partner described how baseball's biggest star walked into the master bedroom at his spring training home along with trainer Greg Anderson, who had a syringe with a needle.
A few minutes later, Bonds and Anderson walked out.
Steve Hoskins testified in federal court Wednesday that he never saw Anderson inject Bonds. The question for the jury will be whether Hoskins' description, which the defense began to challenge later in the day, is a path toward convicting Bonds of lying when he told a grand jury seven years ago he never knowingly took steroids.
Speaking softly and fidgeting in the witness chair, Hoskins gave the first dramatic testimony in the trial of the home-run king, who faces four counts of making false statements and one count of obstruction.
Hoskins said he witnessed scenes of Bonds and a needle-bearing Anderson entering a bedroom once or twice each spring training for three straight years starting in 2000.
A partner with Bonds in a memorabilia business, Hoskins said the home-run hitter asked him to inquire about the effects of the steroid Winstrol in 1999, at around the time Bonds was having left elbow surgery April 20. Hoskins said he went to Dr. Arthur Ting, who is expected to testify later in the trial, and brought a sheet of information back to the slugger. Hoskins said he planned to go to Bobby Bonds, the defendant's father and a former major leaguer, to express his suspicions.
"I was concerned in 1999 after speaking with Dr. Ting about it," Hoskins testified. "In 2003 I was even more concerned because it was getting — it just seemed to be getting out of hand."
This was the period when Bonds noticeably bulked up and started posting unprecedented power numbers for the San Francisco Giants. The seven-time NL MVP hit a season-record 73 homers in 2001 en route to a career record 762 by the time of his last season in 2007 — months before he was indicted for his 2003 grand jury testimony.
Hoskins, who also helped get Bonds' equipment in order at the ballpark, said Bonds' body changed in this period — the transformation caused by steroids prosecutors allege. "His shoe size just got bigger," Hoskins said. "His glove size changed. ... His body weight changed. He got heavier and bigger."
Defense lawyer Allen Ruby, in the first 21/2 hours of a cross-examination that is to continue today, tried to build an argument that Hoskins came forward against Bonds only after the player terminated their joint business on March 27, 2003.
More like this from vindy.com