Road-weary team finally home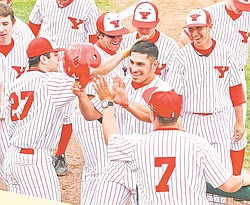 The Vindicator (Youngstown)

Photo
Youngstown State senior Joe Iacobucci is greeted at home plate by teammates after hitting a home run. Iacobucci and the Penguins finally get to play a home game March 22 at Eastwood Field against Penn State Behrend.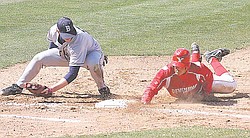 Special to the Vindicator

Photo
Youngstown State senior Joe Iacobucci slides back to first base to beat a pickoff attempt.
By Jon Moffett
NILES
Joe Iacobucci isn't ready to give up his home-cooked meals and his own bed anytime soon.
The rock-star lifestyle is only so enticing. But when reality sets in, life on the road can be a little foreign.
That's why the Boardman High graduate and his Youngstown State baseball teammates are ready to come back home. And it gets even longer when you're away from the comforts of home for weeks at a time.
"It's a great feeling, because being at home is just so much more comfortable," the senior outfielder said. "When you're on the road, you have to be in a hotel and eat bad food. Being at home is definitely a lot more comfortable. You have a lot more leeway with stuff, I think."
Luckily for Iacobucci and the Penguins, the team will get a temporary fix of home to tide them over for a while. The Penguins (3-14) will play at the friendly confines of Eastwood Field today against Penn State Behrend at 3 p.m. After that is a road trip to Wright State to begin Horizon League play.
But YSU coach Rich Pasquale said it's going to be nice to play in front of the home fans and not have to worry about so many of the formalities. Even if it is only for one game.
"It'll be fun. It's going to feel weird with us wearing white and to hit second," he said.
The Penguins have struggled early into this season, but Pasquale said even the losses have taught the team about its potential. While no one is accepting the lopsided win-loss record as is, he said the team is learning to adapt from those mistakes.
"It's part of them believing and feeling like they can do this," he said. "Sometimes when you lose, you lose a little confidence. We're hitting the ball, but we're hitting it at people. These guys just need to believe that the ball is eventually going to drop."
A lot of that, Pasquale said, has to do with the mental approach.
Spending almost every day in a new place can build up and eventually wear a player down, he said. Starting pitcher Phil Klein, who was named as the Horizon League's pitcher of the week for March 14, said it's the toll the road takes on a player that can put them into a funk.
"Traveling is fun and getting down into the warm weather is fun. But people don't the see the staying in the hotels and living out of a suitcase or all that stuff," he said. "There are certain things that you have to make do with. Like sometimes it's hard to find ice in the hotel or find a place to run around, especially if it's not nice outside.
"But we make do with what we can," he said.
Klein especially is looking forward to pitching at home. There is a certain energy the crowd emits. And players like Klein can absorb it. And that leads to better production.
"Just getting ahead of guys in the count is important," the 6-foot-7 right-hander said. "If I'm working backwards, that's when they start getting walks, hits, runs.
"If you start off throwing balls, then they're going to know what's coming; probably fastballs over the middle, something they can hit," he said. "But if you start off throwing off-speed stuff in the dirt or throwing away, then bust them inside. You can kind of fool around with them a little bit."
And nothing helps a players' preparation like familiarity. And familiarity with a ballpark, routine or schedule can make a world of difference.
"It will be nice to stay home and drive out to the field whenever we're ready," Klein said. "You don't need to pack anything or worry about forgetting this or that. And it will be nice playing in front of our fans."