McDonald's Tayala first team Div. IV All-Ohioan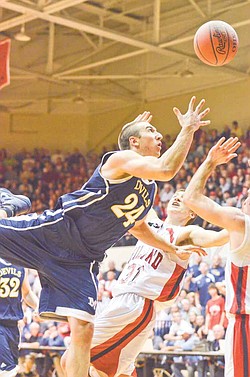 The Vindicator (Youngstown)

Photo
McDonald's Matthias Tayala drives to the hoop while being defended by Jalen Miller of Hiland during the Division IV regional final in Canton. Tayala was named first team All-Ohio by The Associated Press.
Staff report
Matthias Tayala, who led the McDonald boys basketball team to a 20-0 record and the district championship, was named first team All-Ohio on Tuesday by The Associated Press.
Tayala, a 6-foot-2 senior, averaged 18.3 points per game for the Blue Devils, and led a contingent of 13 area players named to the all-state squad.
Six more area athletes were selected All-Ohio in Division III.
Joining Tayla on the Div. IV squad was Wellsville senior Michael Johnston (5-9), who averaged 22.7 points per game for the Tigers. Johnston was named to the second team.
Cole O'Dell of Mathews and Eric Baker of Southern were named special mention, while nine more players were named honorable mention: Nick Rota of McDonald, Matt Byler of Bloomfield, Andrew Holko of Bristol, Jake Boyle of Southern, Jalen DeSarro of Wellsville, Anthony Walker of Youngstown Christian, MarTae Hainesworth of Warren JFK, Matt Spitler of Maplewood and Anthony Alfano of Lowellville.
Also, George Whittaker of Southern, who guided the Indians to a school-record 17 wins, was named Coach of the Year in Div. IV.
Newton Falls senior Cody Dillon led the area selections on the Div. III team.
Dillon, a 6-4 junior who averaged 19.4 points for the Tigers, was named to the third team.
Jacob Jaros of LaBrae was named special mention, and his teammate, freshman Peyton Aldridge, was selected honorable mention.
Also named honorable mention in Div. III were Jeremy Quinlan of Brookfield, and Ursuline teammates Devonte Jenkins and Kyrie Gregory.
Adolphus Washington of Cincinnati Taft and Anton Grady of Cleveland Central Catholic, who helped knocked Ursuline out of the regional tournament last week, were named co-players of the year in Div. III.
The coaches of the year were Zach Ruth of Galion Northmor and Shawn Brewer of Paulding.
Dylan Kaufman of Berlin Hiland, Luke Kohls of Columbus Grove and Zak Kirkbride of Zanesville Rosecrans were named co-players of the year in Div. IV.
Whittaker shared coach of the year honors with Todd Rock of Zanesville Rosecrans and Art Winston of Dayton Jefferson.
More like this from vindy.com