Harding has its man: Rick Rios is new coach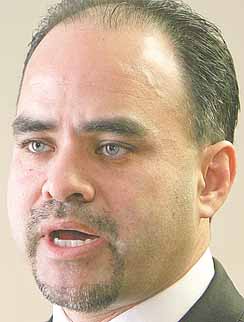 Photo
Rick Rios was named Hardings new football coach at a press conference Tue at noon. He hails from Toledo
By Joe Scalzo
WARREN
After spending most of his life in a basketball town, new Warren Harding High football coach Rick Rios is headed to one of the biggest high school football cities in America.
Rather than run from the expectations — and, yes, the headaches — that can come with the job, he's embracing them.
"This is a great area for football," said Rios, who has spent the last 11 years as the head coach at Toledo Rogers High School. "If you're a high school football coach, you want to be in this area. Anywhere from here down to Massillon.
"It's something that's always been in the back of my mind — that if the opportunity presents itself, that's a situation I want to jump at."
Rios was confirmed by a 5-0 vote at a special Warren board of education meeting Tuesday afternoon, finalizing a sometimes frustrating two-month process that saw three coaches turn down the position before Rios accepted. After the board declined to renew D.J. Dota's contract on Jan. 18, Harding offered the position to Ursuline coach Dan Reardon, Howland assistant Jeff Bayuk (a longtime head coach at Canfield, Hubbard and Campbell) and Maple Heights coach Todd Filtz. All three declined.
Dota went 23-17-1 in four years at Harding, losing in the first round of the playoffs last season. Dota's failure to make the playoffs in 2009 despite a talent-laden roster, combined with a loss to Howland last fall, sealed his fate. He was hired as West Branch's head coach on Feb. 25. That opening drew more than twice as many applications as Harding: 52-25.
Harding athletic director Paul Trina said he sought recommendations from Ohio State coach Jim Tressel and Mount Union coach Larry Kehres. Tressel gave two recommendations and Kehres three, with Rios' name mentioned by both. All three were in Harding's final four, Trina said.
"Rick was one of three people we went after; he did not initially apply for the job," Trina said. "We felt very comfortable that if we landed one of the three, we would have a quality coach.
"We're very grateful at the end of the day Rick Rios is our coach."
Rios, 42, graduated from Rogers and spent nine years as an assistant before becoming head coach 11 years ago. He led the Rams to Division II playoff appearances in 2000, 2005 and 2009. Rogers went 6-3 last year and missed the playoffs after dropping down to Division III.
Although he taught math at Rogers, Rios will become Harding's newly-created Academic Achievement Coordinator, where he will track student-athletes from seventh through 12th grade to ensure they're meeting both the school's and the NCAA's eligibility requirements. He will also work with principals, teachers and administrators to "develop and implement strategies to increase overall student achievement."
Rios, who was given a two-year contract, said he has been running an up-tempo spread attack at Rogers but will evaluate the Raiders' personnel, both on film and in person, before deciding on his offensive and defensive schemes.
Harding will play Fitch in its opener — Rios knew it was 157 days away, as of Tuesday — and he's confident he'll be able to put together a quality staff and get his team ready for what should be one of the toughest teams on the Raiders' schedule.
And if he wasn't, well, he knows he wouldn't have the job.
"When we had great football teams at Rogers, we'd fill half the bleachers," he said. "I know if we're great here, they'll pack the stadium. It's a passionate community.
"If you're a football fan in Ohio, I think you know about Warren G. Harding. It's had great football in the past and it's going to have great football in the future."
More like this from vindy.com